This is an easy, tasty meal. I had some pork tenderloin leftover from making sliders, so I just used that to make this. You could easily substitute chicken.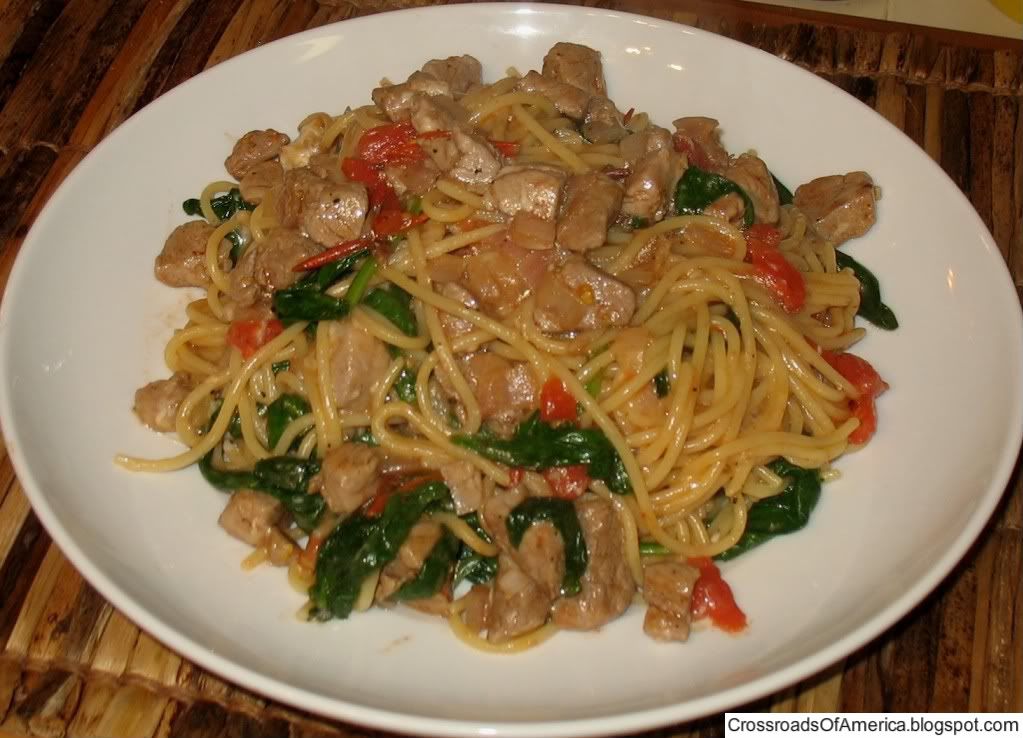 I may try adding some bell pepper next time instead of the tomatoes. The original recipe came from
Kraft
.
Makes: 6-8 servings
Prep time: 15 minutes
Cook time: 20 minutes
Printable Recipe
Ingredients:
1/2 lb spaghetti noodles
1/4 cup balsamic vinaigrette dressing
1 lb pork tenderloin, cut into bite-sized pieces
1 cup red onion, chopped
3 cloves garlic, minced
1-1/2 cups cherry tomatoes, halved
1/3 cup chicken broth
6 cups loosely packed fresh baby spinach leaves, rinsed
1 cup Italian cheese blend
1. Cook spaghetti per package directions. Drain well.
2. Heat 2 tablespoons of the salad dressing a large skillet over medium-high heat and add the pork. Cook until the meat is done and slightly browned. Remove.
2. Add onions, garlic, and the remaining salad dressing to the skillet. Cook until the onions start to get tender.
3. Add the cherry tomatoes and cook for 1 minute, stirring.
4. Add chicken broth. Bring to a boil, stirring. Reduce heat to low.
5. Add the spaghetti and mix. Add spinach and the cheese. Mix and serve.