No, they aren't THOSE chicken nuggets. These are tender, juicy, and tasty. You could make these without the dipping sauces. The nuggets are just fine on their own. They're also fine just dipped in Ranch dressing.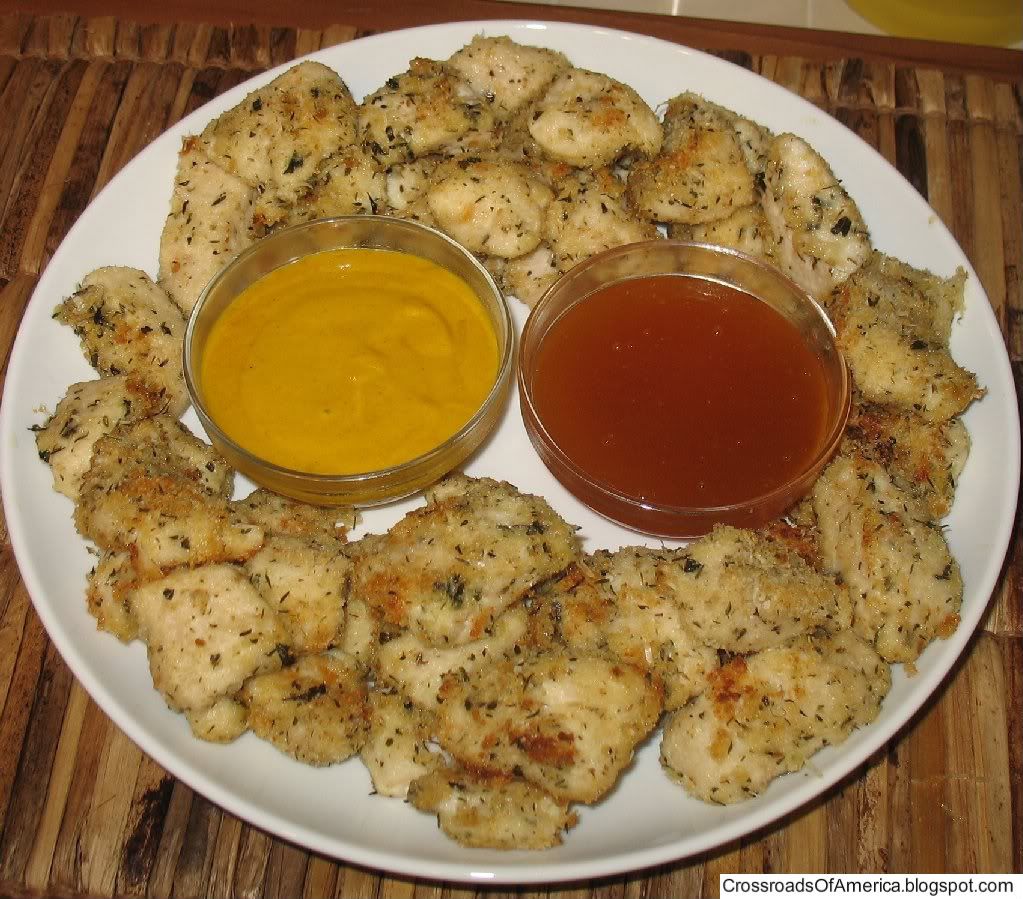 We made two dipping sauces: a
McDonald's Hot Mustard sauce clone
, and a clone of the
McDonald's sweet-and-sour sauce
. The favorite was the sweet-and-sour sauce. It's really quite good.
I found the original recipe for the nuggets
here
.
For the nuggets:
Makes: 8 servings
Prep time: 10 minutes
Cook time: 10-15 minutes
Printable Recipe
Ingredients:
4 boneless skinless chicken breast halves, trimmed and cut into bite-sized pieces
1/2 cup fine dry breadcrumbs
1/4 cup freshly grated Parmesan cheese
1 t salt
1 t dried thyme
1 t dried basil
1/2 cup butter, melted
Dipping sauces (see below)
1. Preheat oven to 400 F. Line two baking sheets with aluminum foil.
2. Combine the breadcrumbs, cheese, salt, thyme and basil and spread out in a pie plate.
3. Working in batches, dip the chicken pieces in butter and shake off the excess. Roll in the breadcrumb mixture.
4. Place chicken on foil and bake for 10-15 minutes or until even the thickest pieces are cooked thoroughly.
For the Hot Mustard sauce:
Cook time: 30 seconds
Ingredients:
6 T prepared yellow mustard
2 T light corn syrup
4 t dry mustard
1 1/2 t white vinegar
1 T mayonnaise
1/2 t soy sauce
1/2 t sugar
1/4 t cayenne pepper (or less, to taste)
1. Combine all ingredients in a bowl. Microwave for 30 seconds. Cover and refrigerate for 4-6 hours for flavors to get happy.
For the Sweet-and-Sour sauce:
Cook time: 15 minutes
Ingredients:
1/4 cup apricot preserves
1/4 cup peach preserves
2 T light corn syrup
5 t white vinegar
1 1/2 t cornstarch
1/2 t soy sauce
1/2 t prepared yellow mustard
1/4 t salt
1/8 t garlic powder
2 t water
1. Place all ingredients except water into a blender and puree.
2. Add mixture to saucepan along with water. Bring to a boil, then reduce to a simmer. Continue simmering 5-10 minutes or until sauce is thickened.