I always love a big ole bowl of jambalaya. Anita? Not so much, specially if there's andouille in it.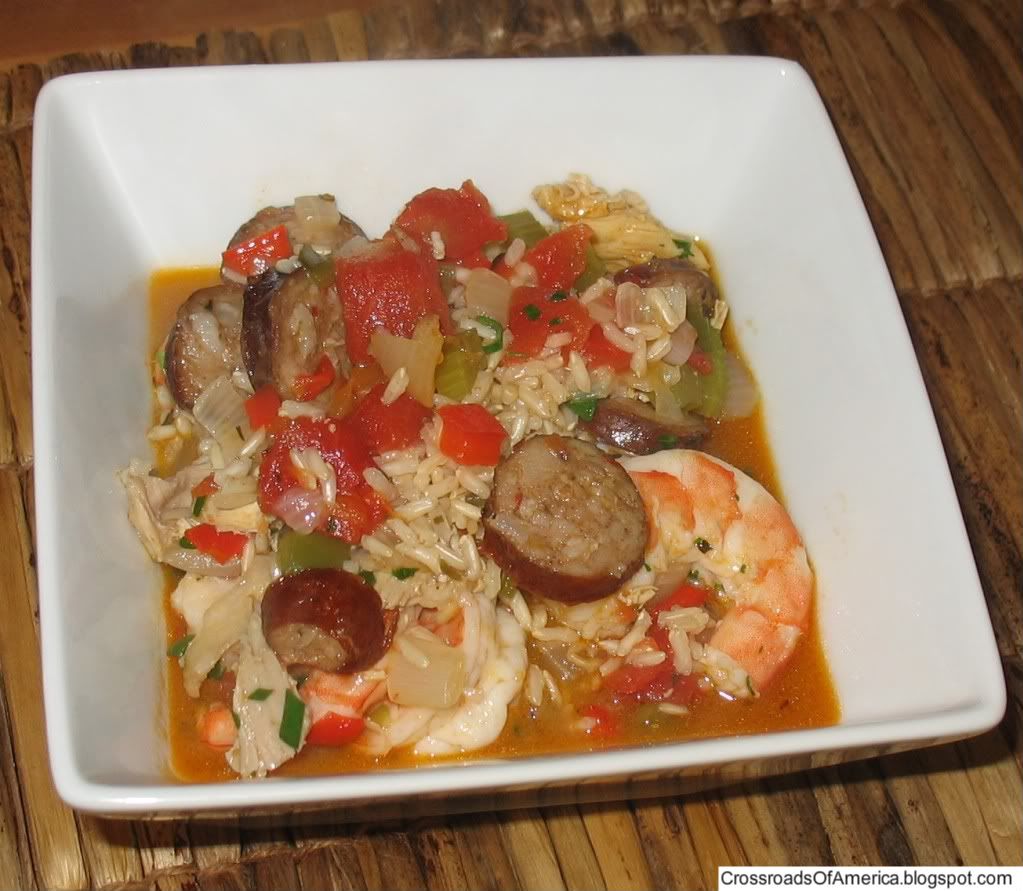 This version is a little different. I usually make my jambalaya in a Dutch oven. This recipe calls for starting it in a Dutch oven but finishing it in the oven. You could skip the oven part and do it all in the Dutch oven.
Makes: 8-10 servings
Prep time: 10 minutes
Cook time: 1 hour
Printable Recipe
Ingredients:
1 1/2 lbs cooked chicken, shredded
1 lb andouille sausage, cut into 1/4" slices
1 large white onion, chopped
2 celery ribs, diced
1/2 medium green bell pepper, diced
1/2 medium red bell pepper, diced
1/2 t dried thyme
1/4 t dried oregano
1/4 t sweet paprika
1/2 t salt
1/2 t cayenne pepper
1 1/2 cups long grain rice
1 14 oz can diced
2 cups chicken broth
1/2 lb medium shrimp (20-24 count), peeled and deveined
2 T fresh parsley, chopped
3 green onions, chopped
1. Preheat oven to 350 F.
2. Place andouille, onion, celery, green and red peppers, thyme, oregano, paprika, salt and cayenne pepper in a Dutch oven. Cook over medium high heat for 5 minutes or until the onions are starting to get tender.
3. Add the rice, tomatoes (with their juices) and broth. Bring to a boil, reduce to a simmer, and let cook 10 minutes.
4. Place mixture in a casserole dish. Top with the cooked chicken, and cover with foil. Bake for 40-45 minutes or until the rice is done.
5. Add the shrimp, parsley, and green onions and bake another 50-10 minutes or until the shrimp and bright pink and done.