Happy Valentine's Day!
These were so fun to make! We had them last night as a kind of Happy Birthday for Anita/Happy Valentine's Day dinner.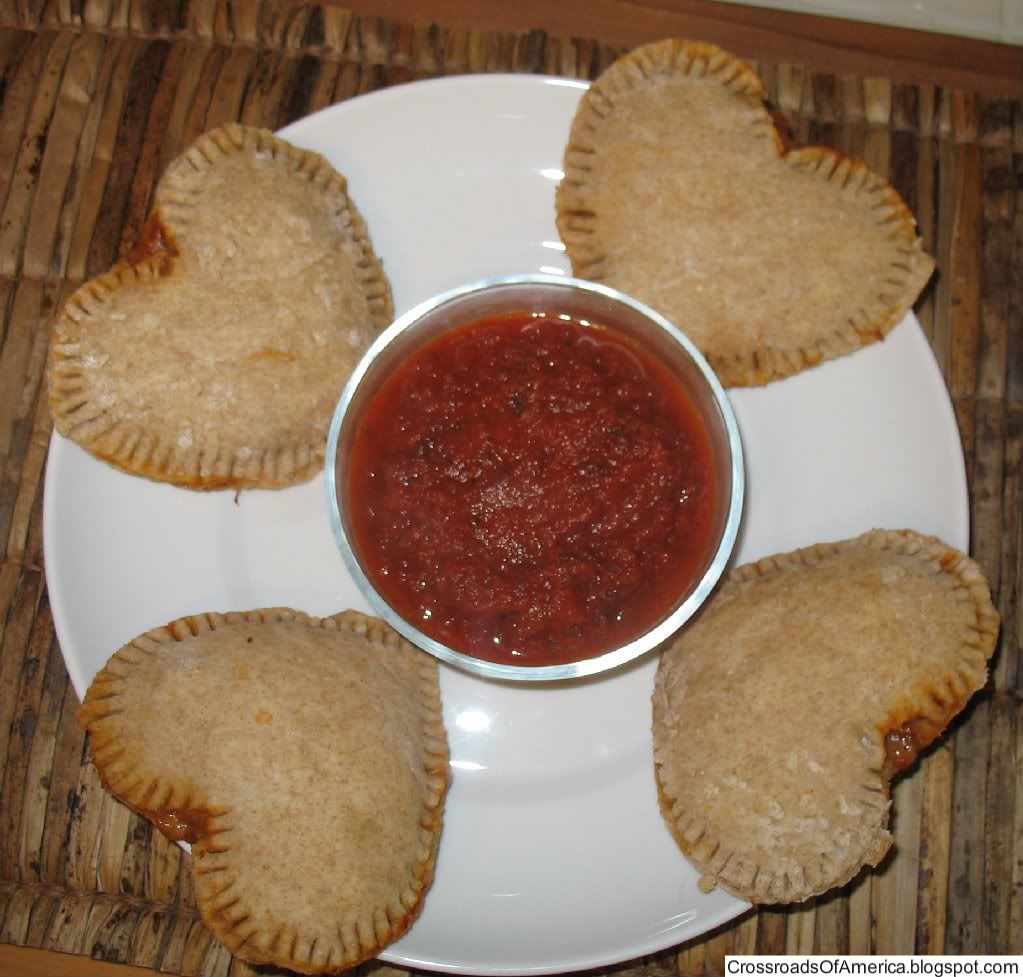 We served them with our homemade marinara sauce which is really, really good. You can use store-bought too if you wish, but homemade is very easy to make.
Makes: 8 4" calzones
Prep time: 2 hours
Cook time: 20 minutes
Printable Recipe
Ingredients for the dough:
2 1/2 t yeast
1 T sugar
1 cup warm water (or more)
1 t salt
3 T olive oil
1 3/4 cup all-purpose flour
1 1/4 cup wheat flour
Ingredients for the filling:
1/4 cup pepperoni, chopped
2 links Italian sausage, cooked, crumbled, drained
1/2 cup Mozzarella cheese, shredded
Marinara sauce (see our recipe)
1. Combine the yeast, sugar, and warm water and let set for 5-10 minutes or until yeast has bloomed.
2. In a separate bowl, combine the flours and salt. Add in the yeast mixture and oil. Cover, place in a warm place, and let rise for 1-2 hours or until doubled in size.
3. Draw a heart pattern on paper or wax paper. Our pattern ended up being about 4" across the widest section. You can make them smaller if you want appetizer-sized calzones.
4. Preheat oven to 400 F.
5. Lightly flour a work surface. Roll out the dough in small portions at a time. Cut out using your heart pattern.
6. Spread about 1 tablespoon of marinara on one piece of dough, leaving a gap along the edges. Top with pepperoni, cheese and Italian sausage. Cover with another heart-shaped piece of dough, pinch down edges with your fingers and then crimp with a fork. Transfer to a non-stick baking sheet. Continue with the remaining dough.
7. Bake 10-20 minutes or until browned and dough is fully cooked. Serve with additional marinara sauce for dipping.