One of my favorite new shows on the Cooking Channel is
Extra Virgin
, with Debi Mazar and Gabriele Corcos. Gabriele makes awesome, easy Tuscan Italian dishes. He and Debi make great hosts. I highly recommend the show.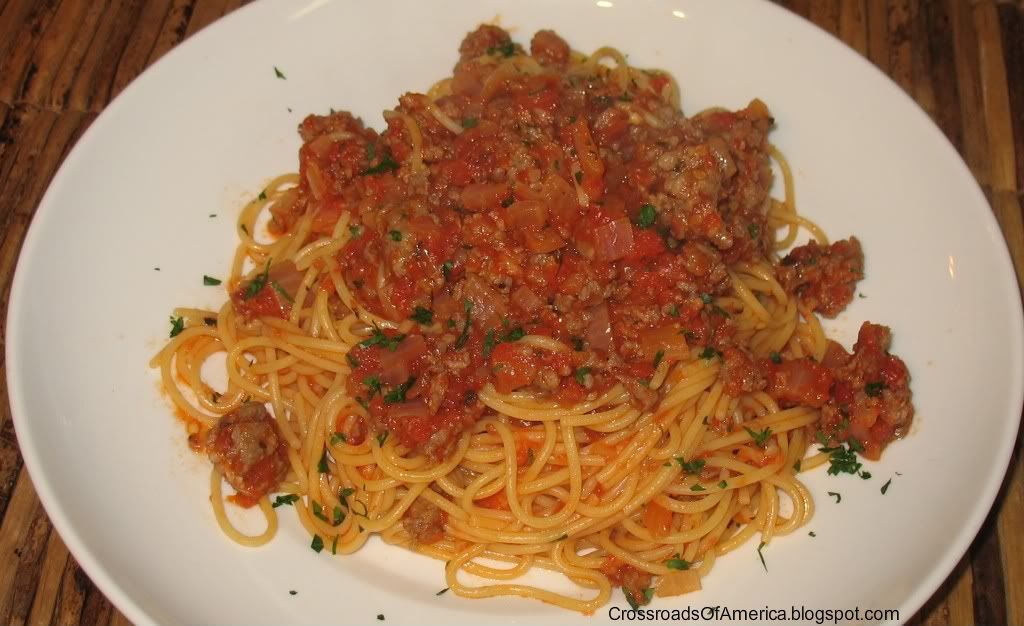 On an episode that aired recently, Gabriele made an
authentic red sauce spaghetti
. I planned on making it exactly as he did, but due to a lack of fresh basil and the need to use up some Italian sausage I had on hand, I had to make a few changes.
Anita proclaimed this the 'best spaghetti I've ever made' and that I can 'stop looking now', meaning I don't need to continue looking for other spaghetti recipes.
Makes: 4 servings
Prep time: 10 minutes
Cook time: 45 minutes
Printable Recipe
Ingredients:
1 28oz can whole tomatoes (use a good quality tomato)
2 T extra virgin olive oil
1/3 medium red onion, diced
3 cloves garlic, minced
1 t dried basil
1 t red pepper flakes (optional)
1 lb Italian sausage links, removed from casings
1 lb dried spaghetti (I used thin)
Parmesan cheese, freshly grated
Fresh chopped parsley, for garnish

1. Heat a medium skillet over medium high heat. Crumble the sausage into the skillet and cook until done. Remove to a paper towel-lined plate.
2. Meanwhile, place the tomatoes (with their juices) in a food processor and process until smooth.
3. Heat oil in a large pan over medium heat. Add the onions and saute until soft. Add the garlic and red pepper flakes, stir, and cook for another minute.
4. Add the tomatoes to the pan and season with salt and pepper to taste. Bring to a boil then reduce to a simmer and continue simmering for 30 minutes, uncovered, until the sauce thickens.
5. During the last 10 minutes of cooking, cook the spaghetti per package instructions and drain well.
6. Add the basil and the Italian sausage and heat through. Add the spaghetti and mix well, getting it well covered in the sauce.
7. Serve topped with freshly-grated Parmesan cheese.