The sauce on this chicken is insanely good. And the carrots were fantastic, too!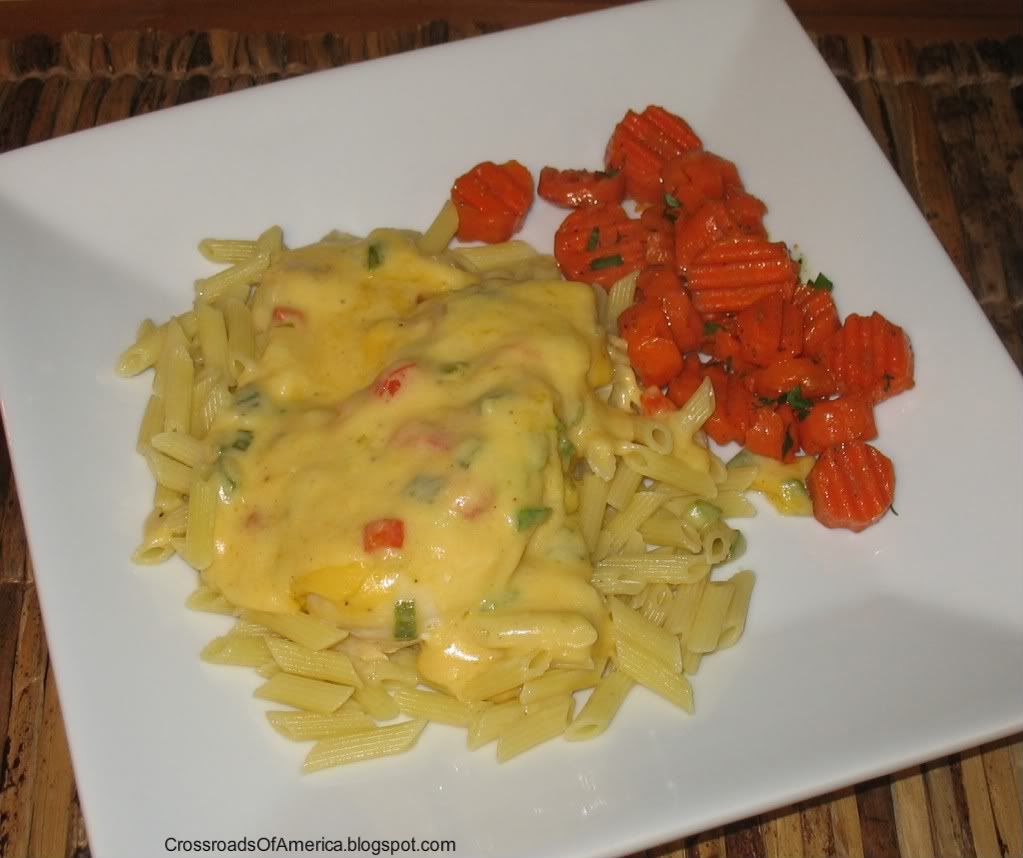 The sauce is a combination of
this recipe
and
this one
. I really kicked up the sauce by using my favorite, seriously hot, hot sauce. I can't say the name of the sauce since this it might offend some. Let's just say that it came from the adult area of the hot sauce section in
Jungle Jim's
outside of Cincinnati.
We served the chicken over mini-penne pasta. You can skip that or use rice or any other kind of pasta.
Makes: 4 servings
Prep time: 10 minutes
Cook time: 40 minutes
Printable Recipe
Ingredients:
2 large boneless, skinless, chicken breasts, butterflied and cut into cutlets
2 jalapeño peppers, minced
1/4 cup green or red bell pepper, chopped
2 green onions, chopped
1 clove garlic, minced
1 T olive oil
2 T butter
2 T all-purpose flour
1 1/2 cups milk
1 cup cheddar cheese, shredded
Hot sauce, to taste
Pasta, cooked (optional)
1. Preheat oven to 350 F.
2. Mix bell pepper, jalapeño, and olive oil. Place chicken in a shallow baking dish that has been sprayed with non-stick spray. Cover with pepper sauce and bake, uncovered, for 20 minutes.
3. Meanwhile, melt butter in a medium saucepan. Add the green onion and sautee for 1 minute. Add the flour and stir for 1 minute. Whisk in the milk in batches. Continue stirring and cooking until sauce starts to thicken. Remove from heat. Add the cheese, hot sauce, and salt and pepper to taste.
4. Remove chicken from oven. Pour sauce over chicken and return to oven for another 15-20 minutes until the chicken is done. Set oven to broil and lightly brown the cheese and chicken.
5. Serve (optionally, over pasta) topped with cheese sauce.
Sauteed Carrots
Makes: 4 servings
Prep time: 5 minutes
Cook time: 15 minutes
Ingredients:
1 lb large carrots, peeled and cut into 1/4" slices
1 t salt
1/4 t pepper
2 T butter
Parsley, to taste
1. Place carrots along with 1/3 cup of water and salt and pepper in a saute pan. Cover, bring to a boil and then reduce to a simmer and cook 7-8 minutes until the carrots are just starting to soften.
2. Add butter and cook, uncovered, another minute, or until the water has evaporated.
3. Remove from heat and stir in parsley. Add more salt and pepper to taste.