These make great appetizers. Fantastic munchies for the football bowl games!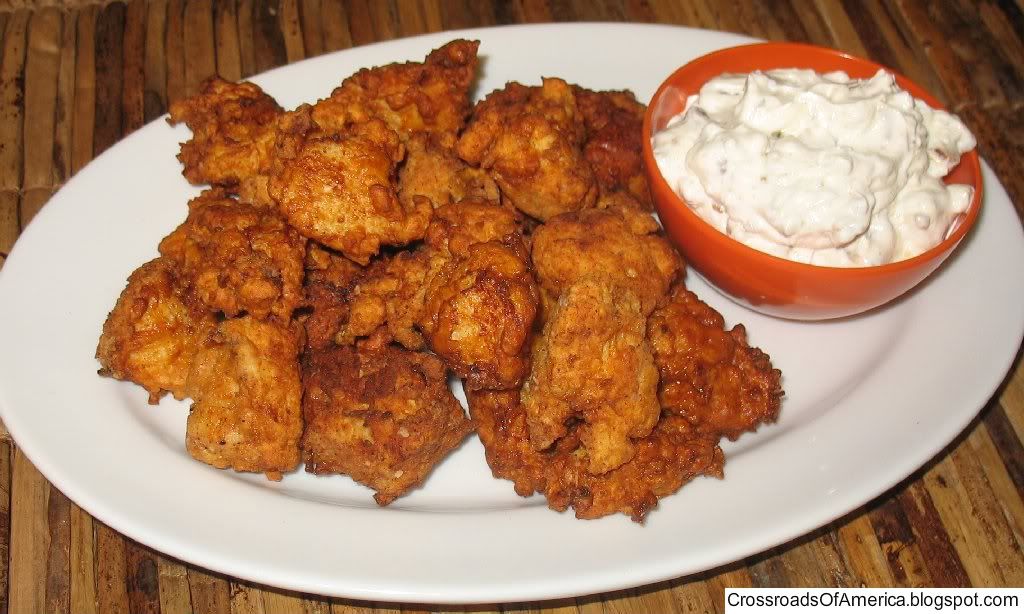 Adjust the heat to suit your tastes. I doubled (or maybe even tripled) the hot sauce and cayenne for extra kick.
Makes: 6 servings
Prep time: 2 hours (or overnight)
Cook time: 20 minutes
Printable Recipe
Ingredients:
2 large skinless, boneless, chicken breasts
4 pieces thick-cut bacon
2 cups buttermilk
2 T hot sauce
2 1/2 cups all-purpose flour
2 t cayenne pepper
2 t paprika
1 t garlic powder
1 T salt
1 t black pepper
2 cups vegetable oil
Dipping sauce (see below)
1. Cut chicken into bite-sized pieces.
2. Combine buttermilk and hot sauce in a large bowl. Add chicken pieces. Turn to coat well. Cover and refrigerate for at least 2 hours, up to overnight.
3. Cook bacon. Remove to paper towel-lined plate and use for making the dipping sauce. Reserve 2 tablespoons of the bacon fat.
4. In a pie pan, combine the flour, cayenne, paprika, garlic powder, salt and pepper. Add chicken and cover well. Return chicken to the buttermilk mixture and coat well. Once again, put chicken in the flour mixture and coat well.
5. Heat oil in a Dutch oven or pot to 350 F.
6. Working in batches, add chicken to oil and cook until done, about 3-4 minutes. Remove to paper towel-lined plates. Serve with dipping sauce.
Dipping Sauce
Ingredients:
3/4 cup sour cream
1 T mayonnaise
1/4 cup blue cheese, crumbled
4 slices bacon, cooked and crumbled
1. Combine all ingredients.