These are very similar to the Sloppy Joes you remember from your childhood, but with a more grown-up taste.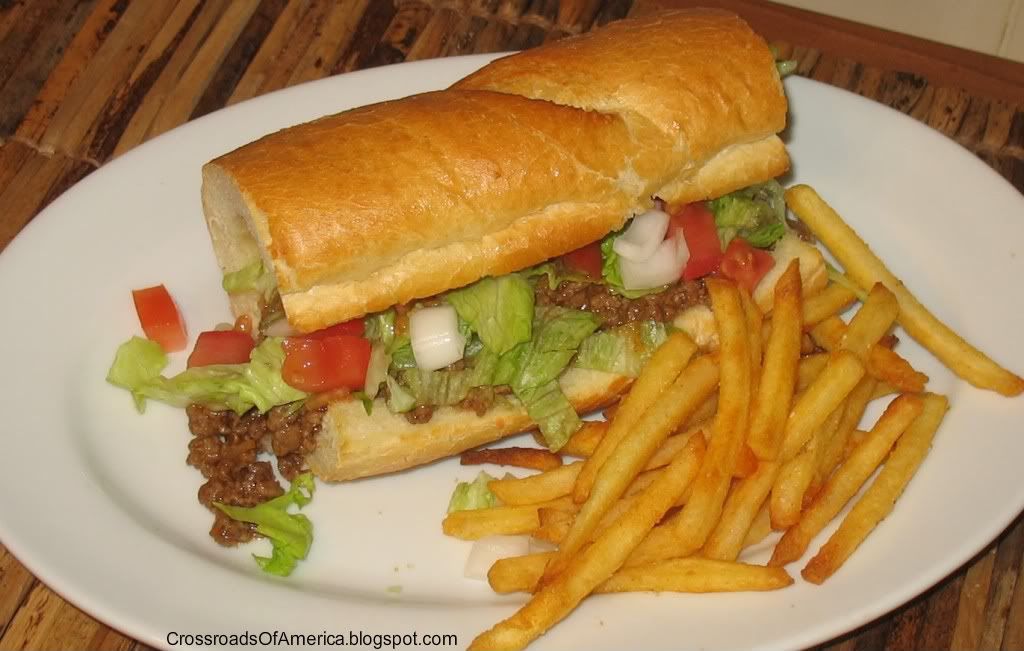 We found that these taste better after the sauce gets time to set and 'get happy'. The flavors marry more, resulting in a richer sauce.
The
original recipe
comes from Deep South Dish.
Makes: 4 servings
Prep time: 10 minutes
Cook time: 25 minutes
Printable Recipe
Ingredients:
1 pound ground chuck
1 loaf French bread, split, or 4 hamburger buns
1/4 cup ketchup
2 T sweet pickle relish
2 t Dijon mustard
1/2 t black pepper
1/2 cup beef broth
5 T onion soup mix (see below, or use a packet of Lipton's)
1/2 small onion, chopped, for garnish
2 small tomatoes, seeded, chopped, for garnish
1 cup lettuce, shredded, for garnish
1. Crumble ground beef in a medium sized pot and brown. Drain most of the fat.
2. In a small bowl, combine the ketchup, relish, mustard, onion mix, and black pepper. Add to ground beef along with the beef broth. Mix well. Reduce to a simmer and simmer for 10 minutes. Let the sauce sit for 5-10 minutes.
3. Warm or brown bread or buns. Top with meat mixture. Garnish with onion, tomato and lettuce.
Lipton Onion Soup Mix Copycat
Makes: Equivalent of 4 packets, or 20 tablespoons
Ingredients:
3/4 cup dried minced onion
1/3 cup beef bouillon powder
4 t onion powder
1/4 t crushed dried celery seed
1/4 t sugar
1. Combine ingredients well.