Beef roasts were on sale last week, so I picked one up with the intent of making some sandwiches.
I've made a
Dutch oven version of this
before. This recipe is spicier, though not quite as tender. Still, it's very good, specially when topped with hot giardiniera.
Here it is rubbed down and ready to go into the oven.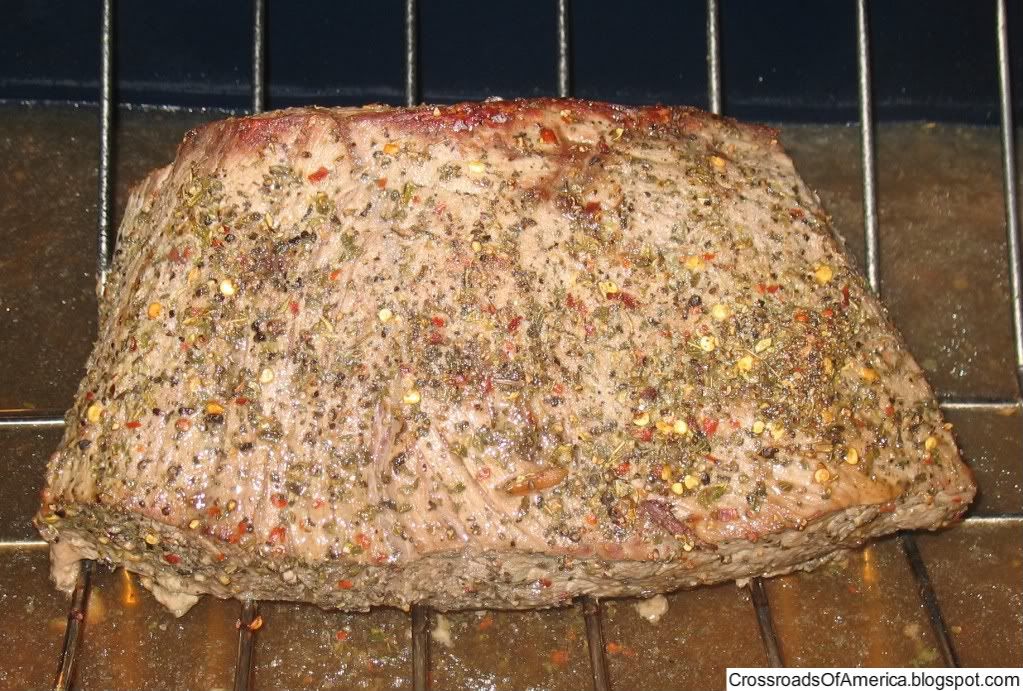 Makes: 10 servings
Prep time: 15 minutes
Cook time: 5 hours
Printable Recipe
Ingredients:
3 lb boneless beef roast, trimmed
1 T fresh ground black pepper
2 t garlic powder
1 t onion powder
1 t dried oregano
1 t dried basil
1/2 t crushed red pepper flake
6 cups water
4 beef bouillon cubes
10 hoagie rolls, or 5 large sub rolls cut in half
2 large green bell peppers, cut into 1/4" slices
1 T olive oil
1 cup hot giardiniera
1. Preheat oven to 400 F.
2. Combine the pepper, garlic and onion powder, oregano, basil and red pepper. Rub all but 1 tablespoon of the mix on the meat, covering it well. Let the meat sit for 30 minutes at room temperature.
3. Heat the water to a boil in a saucepan. Add the beef bouillon and dissolve. Remove from heat and add the remaining rub mix.
4. Place meat on a rack in a roasting pan. Pour the water into the pan. Place in oven and cook until the meat reaches 140 F in the center of the roast, about 1 1/2 hours.
5. Remove roast and let sit for 30 minutes. Reserve the juices. Wrap beef in foil and place in fridge for 1-2 hours until the meat firms up slightly.
6. Slice meat very thinly.
7. Heat olive oil in a large skillet over medium-high heat. Add green pepper and cook until tender-crisp, about 15 minutes.
8. Add juices to a pot and reheat. Add beef slices and heat for 1 minute.
9. To assemble the sandwiches, split the buns and spoon juices on bottom. Add beef. Top with pepper slices and giardiniera. Add more sauce and enjoy! You can also use the sauce to dip the sandwiches in, ala French Dips.