These muffins are insanely good. You could make them larger if you want, or even make them in a large cornbread pan.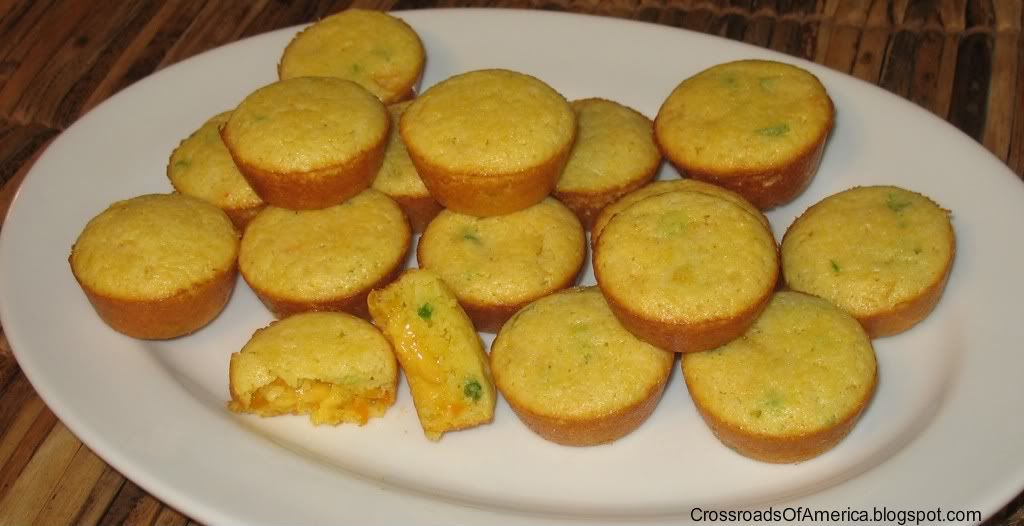 The original recipe came from the
Pioneer Woman's blog
.
Makes: 24 muffins
Prep time: 10 minutes
Cook time: 10 minutes (longer if making large muffins)
Printable Recipe
Ingredients:
1 box Jiffy cornbread mix
1 jalapeño pepper, minced
1/2 cup bell pepper (any color will do), diced
3/4 cups milk
1 large egg
2 T butter, melted
2 T sugar
Block cheddar cheese, cut into 24 small cubes
1. Preheat oven to 400 F.
2. In a large bowl, mix the cornbread mix, egg, milk, and butter. Add jalapeño and bell peppers and sugar. Mix.
3. Spray mini muffin pans with non-stick spray. Add batter to pan, filling each about 1/3 of the way. Add cheese cubes and fill the rest of the way with the batter.
4. Bake for 10 minutes until done. Larger muffins will take longer.