Anita requested nachos the other night. I was going to make our favorite,
chorizo nachos
, but then I ran across
this recipe
that comes from the book
Cajun Men Cook: Recipes, Stories, & Food Experiences from Louisiana Cajun Country
.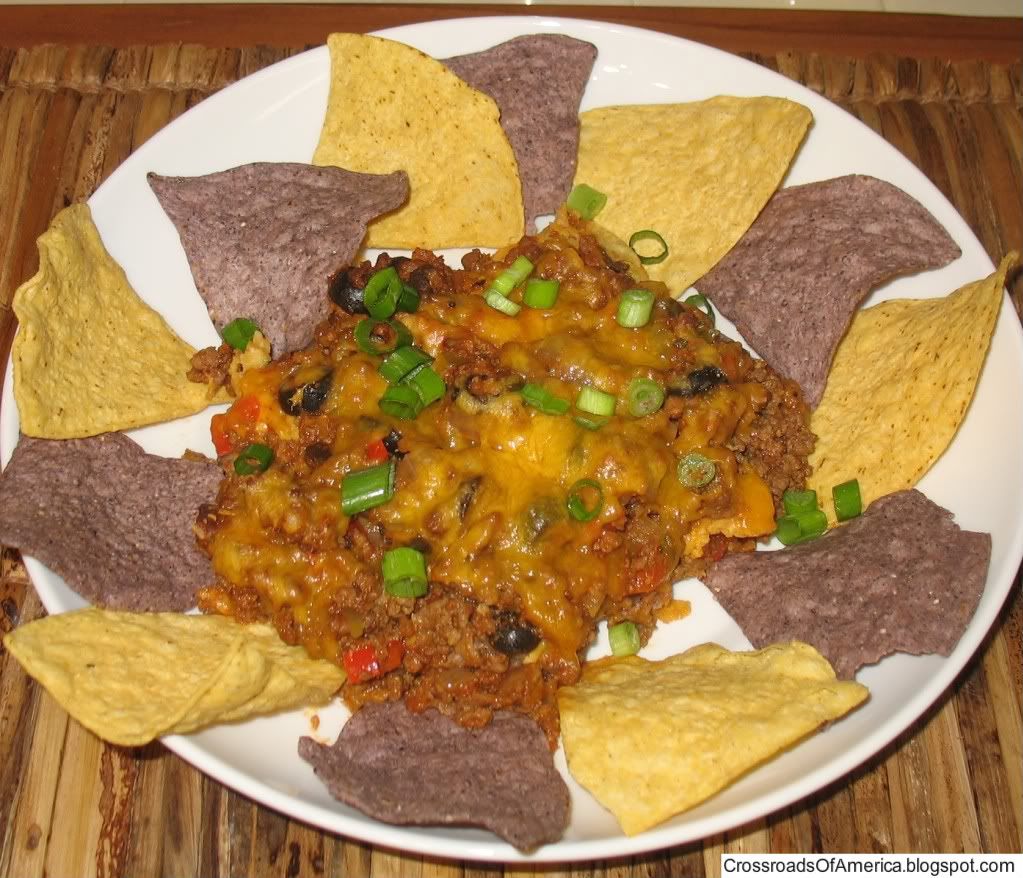 These nachos are insanely good. I did make some changes to the original recipe since I didn't have jalapeño cheese spread on hand.
Makes: 8 large servings, 16 appetizer servings
Prep time: 15 minutes
Cook time: 20 minutes
Printable Recipe
Ingredients:
2 lbs ground beef
1 large white onion, chopped
1 medium red bell pepper, chopped
3 cloves garlic, minced
2 jalepeño peppers, seeded and diced
1 2.25 oz can sliced black olives, drained
1 16 oz jar picante sauce
3 T taco seasoning mix (or use 1 packet of the pre-made mix)
1 t salt
1/4 t black pepper
1/4 t cayenne pepper
2 T Worcestershire sauce
1 lb cheddar cheese, shredded
3 green onions, chopped, for garnish
1 large bag yellow corn tortilla chips
1 large bag blue corn tortilla chips
1. Brown meat in a large pot. Drain.
2. Add taco seasoning and Worcestershire sauce. Mix, cover and simmer for 15 minutes.
3. Add onion, bell pepper, garlic, picante sauce, jalapeño, olives, salt, black pepper, and cayenne pepper. Mix, cover, and simmer for 45 minutes, stirring occasionally.
4. Preheat oven to 350 F.
5. Spray a 13x9 baking dish with non-stick spray. Spread a few ladles of the meat mixture in the pan. Add a layer of chips, then top with cheese. Repeat with remaining ingredients, ending with a good amount of cheese on top.
6. Bake for 15 minutes or until cheese is melted and bubbly. Serve with more chips, topped with green onions.