The classic French ham, cheese and egg sandwich.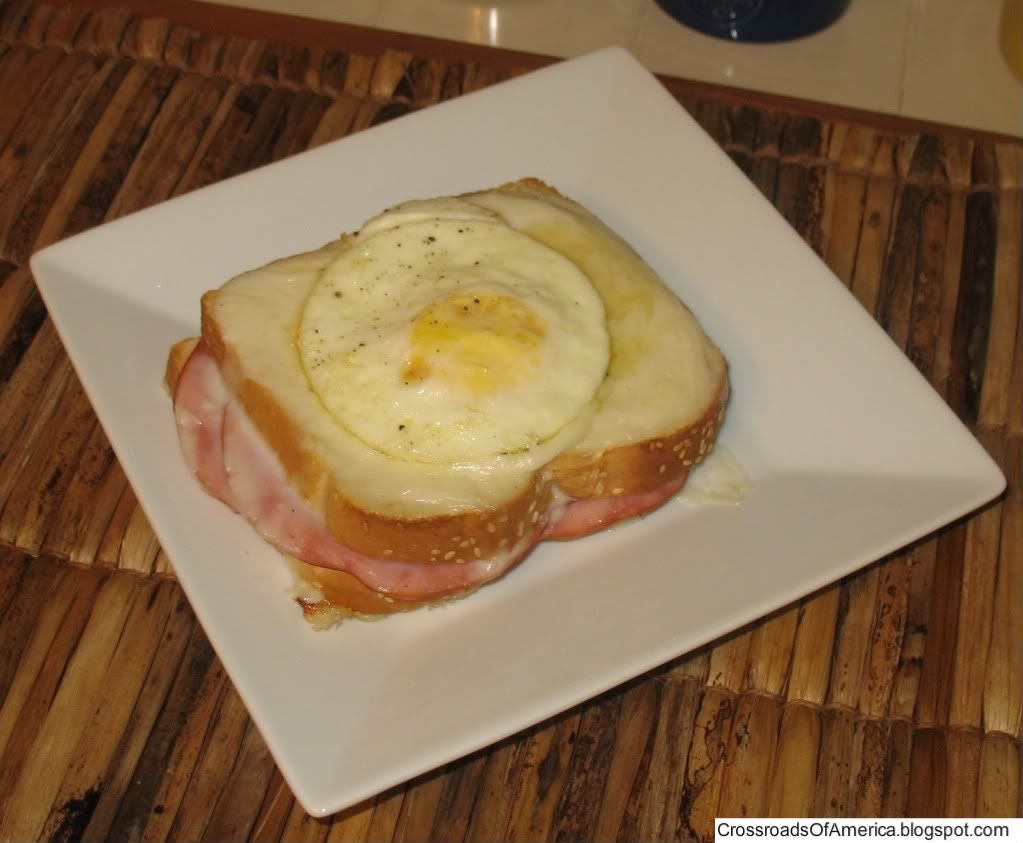 I found
this recipe over at Rouxbe
, the online cooking school site.
Makes: 2 servings
Prep time: 30 minutes
Cook time: 15 minutes
Printable Recipe
Ingredients:
1 T butter
1 T all-purpose flour
3/4 cup milk
Pinch nutmeg
Pinch salt
Pinch white pepper
2 T plus 1 cup Gruyere cheese, grated
2 T fresh grated Parmesan cheese
4 slices Italian bread
3 T plus 1 t butter
4 slices thick cut ham
1 T Dijon mustard
2 eggs
1. Preheat oven to 400 F.
2. Melt 1 tablespoon of the butter in a saute pan. Stir in the flour and let cook for it starts to brown slightly, about 2 minutes.
3. Whisk in the milk. Add the nutmeg and pinches of salt and white pepper.
4. Remove from heat and add 2 tablespoons of the Gruyere and all of the Parmesan cheeses. This is the Mornay sauce you will use later.
5. Spread remaining butter on both sides of the bread slices. Place on a baking sheet and toast in the oven until lightly browned. Flip and lightly brown other side. Remove.
6. Spread Dijon on two of the pieces of bread. Top each slice with 2 pieces of the ham and 2 tablespoons of the remaining Gruyere cheese.
7. Spoon 1 tablespoon of the Mornay sauce over the cheese then top with other slice of bread. Place on a baking sheet and top with remaining Mornay sauce and cheese.
8. Place sandwiches in the oven and cook for 3 minutes. Then place under broiler for another minute or until the cheese has melted and is lightly golden.
9. Meanwhile, melt 1 teaspoon butter in a small skillet. Add eggs and cook as desired. Place cooked eggs on sandwiches and serve.