This chili is fantastic. It's pretty thick, but mighty tasty. The cornbread topping came out great.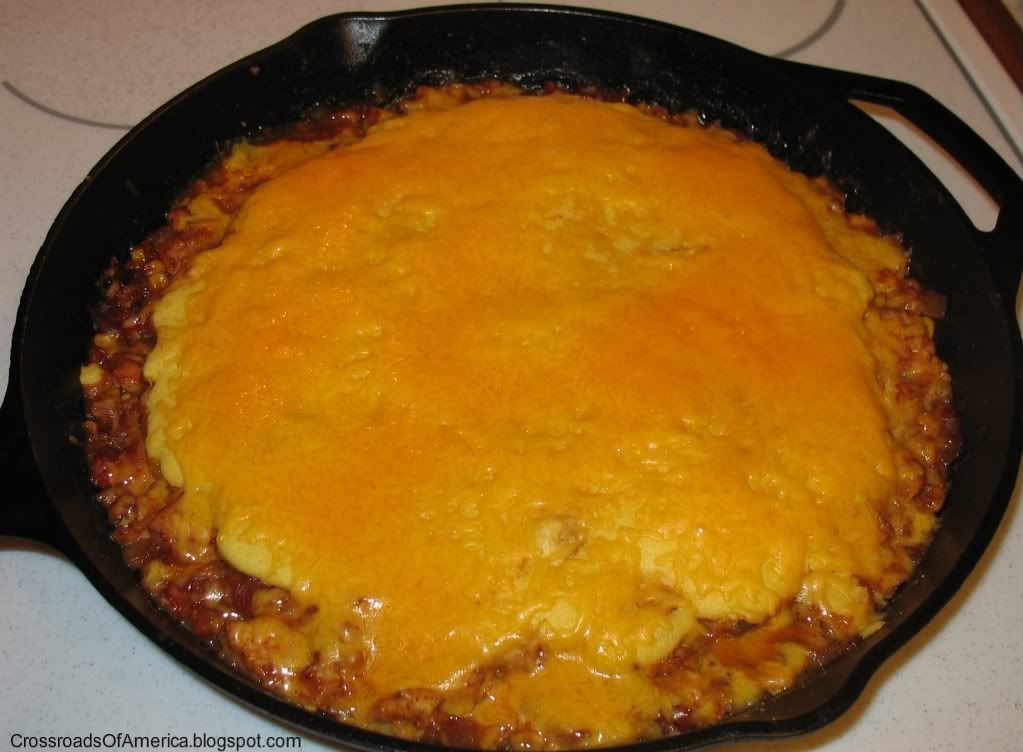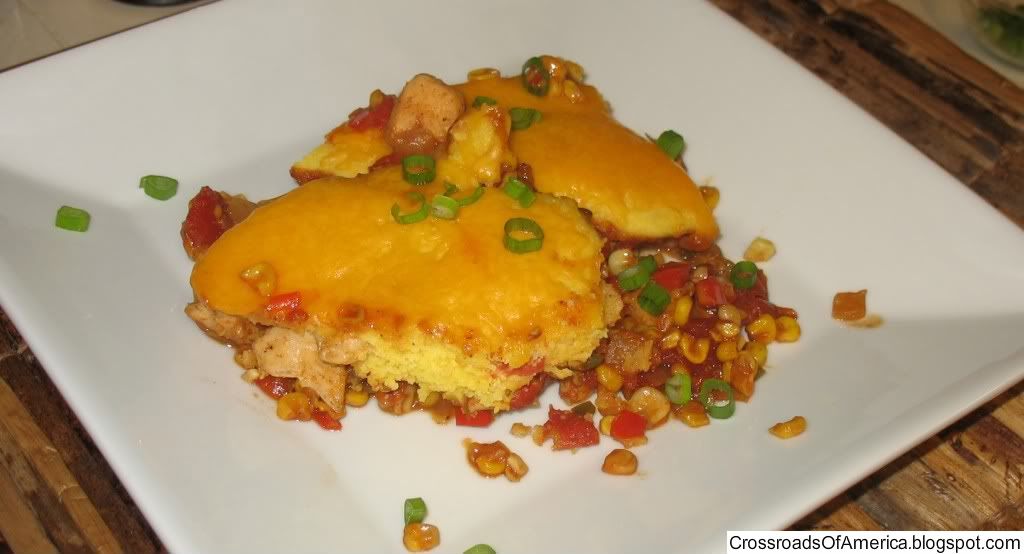 This is my adaption of
a recipe from Emeril Lagasse
.
Makes: 6 servings
Prep time: 15 minutes
Cook time: 1 hour
Printable Recipe
Ingredients:
1 lb boneless, skinless chicken breasts
2 T Creole seasoning
3 1/2 T vegetable oil
1 cup yellow onion, chopped
1/2 cup red bell pepper, chopped
1 jalapeño, minced
1 T garlic, minced
2 t ground cumin
1 bay leaf
1 1/2 t salt
1/2 t cayenne pepper
1 cup corn
1 15oz can diced tomatoes (undrained)
1 cup chicken stock
1/4 cup fresh cilantro, chopped
1 cup Cheddar cheese, shredded
2 green onions, chopped
3/4 cup cornmeal
1/4 cup all-purpose flour
1 1/2 t baking powder
1/2 cup buttermilk
1 large egg
1. Preheat oven to 400 F.
2. Cut chicken into bite-sized cubes. Season with Creole seasoning. Heat 1 tablespoon of the oil in a large cast-iron skillet over medium-high heat. Add chicken and cook until browned, about 5 minutes. Remove.
3. Add 1/2 tablespoon of oil to skillet and add the yellow onions, bell pepper, and jalapeño. Cook for 3 minutes, stirring.
4. Add the garlic, cumin, bay leaf, salt, cayenne, and 1 teaspoon of salt. Stir and cook for 1 minute.
5. Add corn and cook for another 3 minutes.
6. Add tomatoes and liquid from the can, along with the chicken stock. Bring to a boil and stir, reducing until thickened, about 10 minutes.
7. Add chicken to pan and cook another 5 minutes. Remove from heat and remove the bay leaf. Add cilantro and stir. Season with salt and pepper to taste.
8. Combine cornmeal, flour, baking powder and remaining 1/2 teaspoon of salt in a large bowl.
9. In another bowl, combine the buttermilk, egg and remaining 2 tablespoons of oil. Add mixture to the cornmeal mix. Blend, but do not overmix. Pour over chicken mixture.
10. Place skillet in oven and bake until golden brown, about 15 minutes. Sprinkle cheese over top and bake another 2-3 minutes, or until the cheese is melted. Serve garnished with green onions.