Great dish for a cold, gloomy day!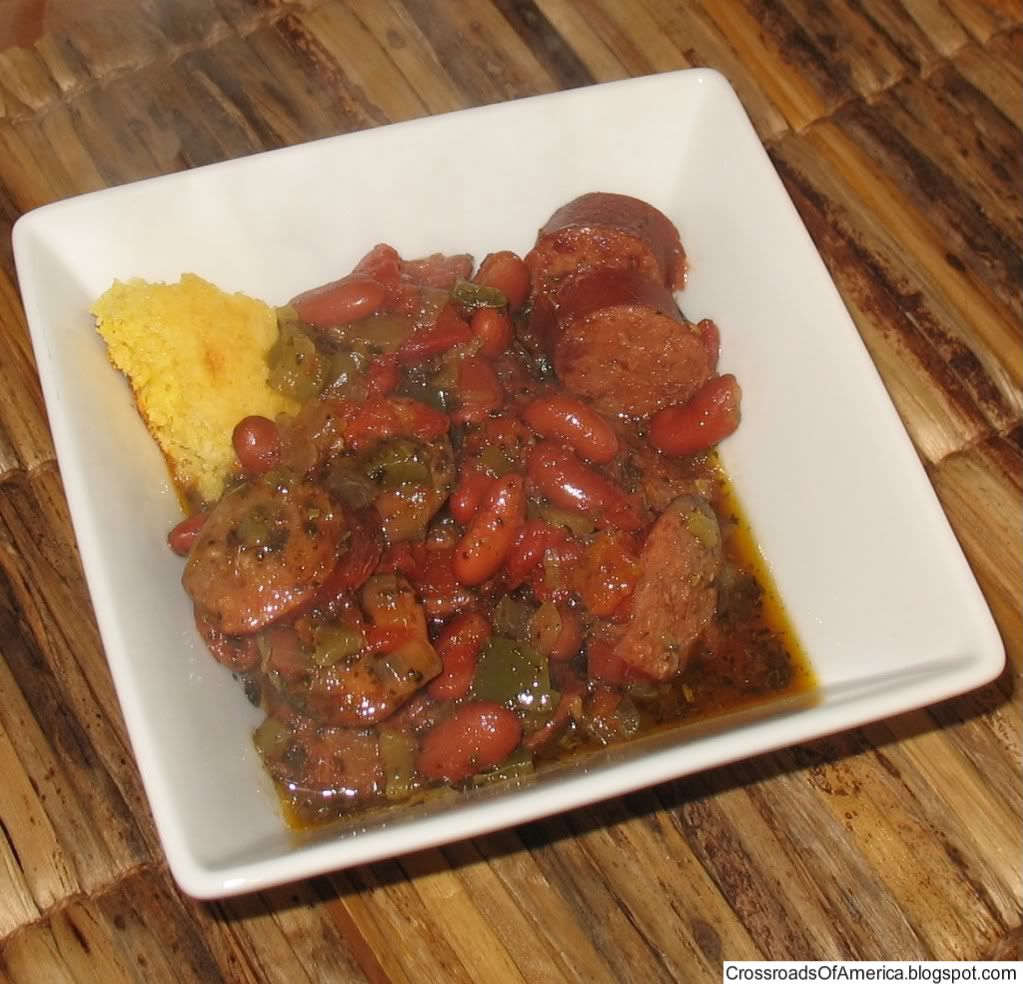 Makes: 6 servings
Prep time: 10 minutes
Cook time: 8 hours
Printable Recipe
Ingredients:
1 lb smoked sausage, cut into 1/2" pieces
1 16 oz can light red kidney beans, rinsed and drained
1 14 1/2 oz can diced tomatoes
1 small can green chilies, chopped
1 medium green bell pepper, chopped
1 small onion, chopped
1/4 cup chicken broth (or water)
2 T Italian seasoning
Hot sauce, to taste
Cornbread (see below)
1. Place sausage in a Dutch oven over medium-high heat and brown. Add remaining ingredients and cook on low 7-8 hours.
2. Serve over cornbread.
Skillet Cornbread
Makes: 8-12 servings
Prep time: 5 minutes
Cook time: 25 minutes
Ingredients:
1 cup yellow cornmeal
1/2 cups all-purpose flour
1 t salt
1 T baking powder
1 cup buttermilk
1/2 cups milk
1 egg
1/2 t baking soda
1/4 cup shortening, plus 2 T
1. Preheat oven to 450 F.
2. Combine cornmeal, flour, salt and baking powder in a bowl.
3. Combine buttermilk, milk, and egg in another bowl and stir. Add baking soda and stir.
4. Pour wet mixture in with dry mixture. Stir with a fork.
5. Melt 1/4 cup of the shortening and stir into the batter.
6. Heat 9" cast iron skillet over high heat and add remaining 2 tablespoons of shortening. Add the batter and spread out evenly.
7. Cook batter on stovetop for 1 minute, then transfer skillet to oven and bake 20-25 minutes until golden brown.