Oh, my, how this smelled so good while it was cooking! I had a hard time keeping from just grabbing a bowl before it was completely ready!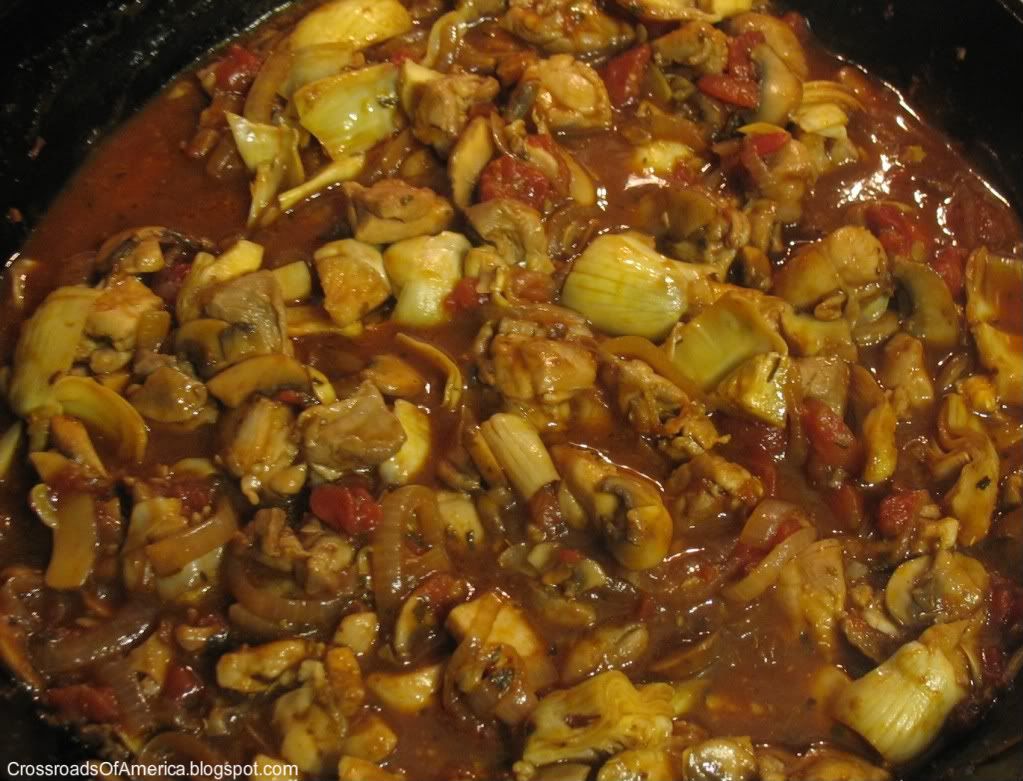 I found the original recipe over on the
Gonna Want Seconds
blog.
Makes: 4 servings
Prep time: 15 minutes
Cook time: 45 minutes
Printable Recipe
Ingredients:
2 T olive oil
6-8 boneless, skinless chicken thighs, cut into chunks
1 medium white onion, sliced
2 T garlic, minced
2 cups mushrooms, sliced
1 14 oz can diced tomatoes
1 8 oz can tomato sauce
1 t sugar
1/3 cup Merlot wine
1/4 cup balsamic vinegar
1 14 oz can artichoke hearts, drained, cut into quarters
3/4 cup green olives stuffed with pimientos, sliced
1 t dried basil
1 T dried oregano
1/2 lb spaghetti, cooked and drained
Freshly grated Parmesan cheese
1. Heat one tablespoon of the oil in a cast iron skillet over medium high heat. Season the chicken with salt and pepper and add to the skillet. Brown quickly on both sides and remove.
2. Add remaining oil and add the onion. Saute until just starting to soften.
3. Add the garlic and saute for another 3-4 minutes.
4. Add mushrooms and saute until starting to soften.
5. Add the diced tomatoes, tomato sauce, sugar, wine, balsamic vinegar, basil and oregano. Simmer for 10-15 minutes.
6. Add the artichokes, olives and chicken. Stir, and simmer for 20 minutes. Season with salt and pepper to taste.
7. Serve over cooked spaghetti, sprinkled with grated Parmesan cheese.