This was a big hit. The chicken is easy to make, and the slaw is insanely good.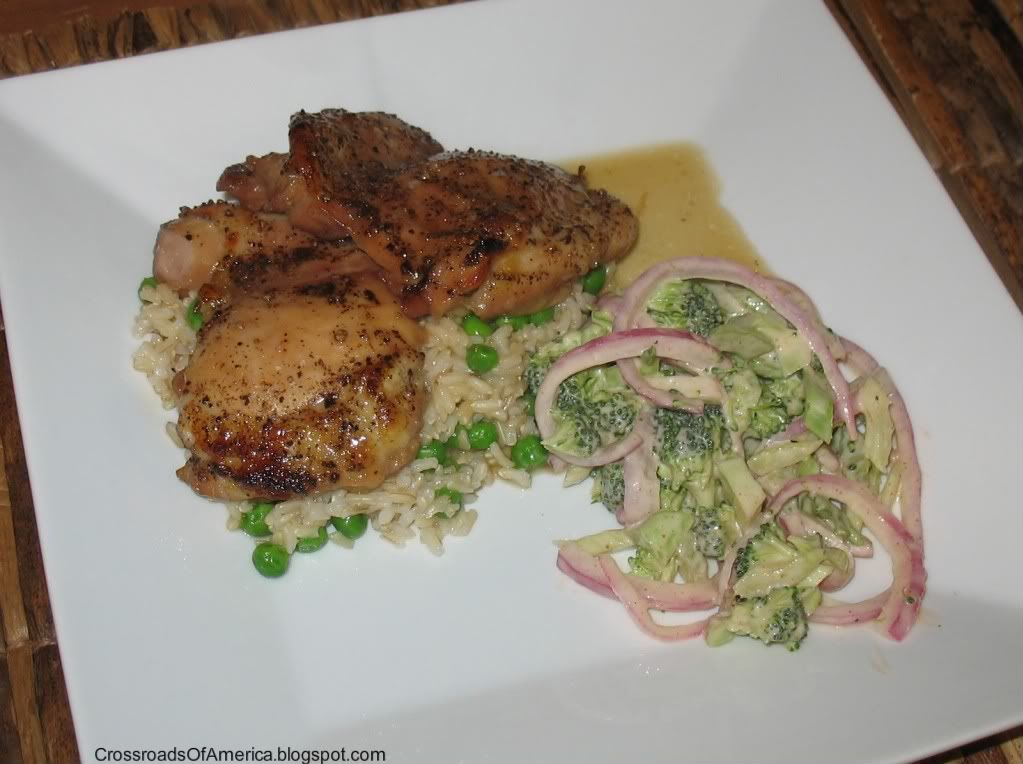 Anita's not a big fan of cumin (which is unfortunate), so we cut back on the stated amount by just a bit.
The
original recipe
for the chicken used legs. You could also use boneless breasts and adjust the cooking time as needed.
For the Honey Soy Glazed Thighs:
Makes: 4 servings
Prep time: 5 minutes
Cook time: 30 minutes
Printable Recipe
1/2 cup honey
2 T soy sauce
2 lbs boneless, skinless chicken thighs
Cooked rice, for serving
1. Preheat oven to 475 F. Spray a 9x13" baking dish with non-stick spray.
2. Place honey, soy sauce and 1/3 cup of water in a large bowl. Mix well. Add the chicken, toss to coat. Remove to baking dish and season well with salt and pepper.
3. Bake chicken until well browned and done, about 20 minutes. Baste with pan juices every 5 minutes.
4. Serve over rice drizzled with pan juices.
For the Broccoli and Celery Slaw:
Makes: 4 servings
Prep time: 10 minutes
Cook time: 30 minutes
Ingredients:
1 head broccoli, stalks sliced thin sliced, florets chopped
4 celery stalks, sliced thin on the diagonal
1/2 medium red onion, sliced thin
1/2 cup mayonnaise
1 lime, zested and juiced
1/2 t ground cumin
1/2 t chili powder
2 t sugar
1/2 cup golden raisins, for garnish (optional)
1. Put the broccoli, celery, and red onion in a large bowl.
2. In a small bowl, mix the mayo, lime juice and zest, cumin, chili powder, and sugar. Whisk together. Add salt and pepper to taste.
3. Add dressing to the vegetables. Combine well. Cover and refrigerate for 30 minutes before serving. Toss first, then top with raisins.