Anita and I headed to the pool at the
Brown County Inn
for a few days. I wanted to take along some poolside eats, so I made up this nice little salad.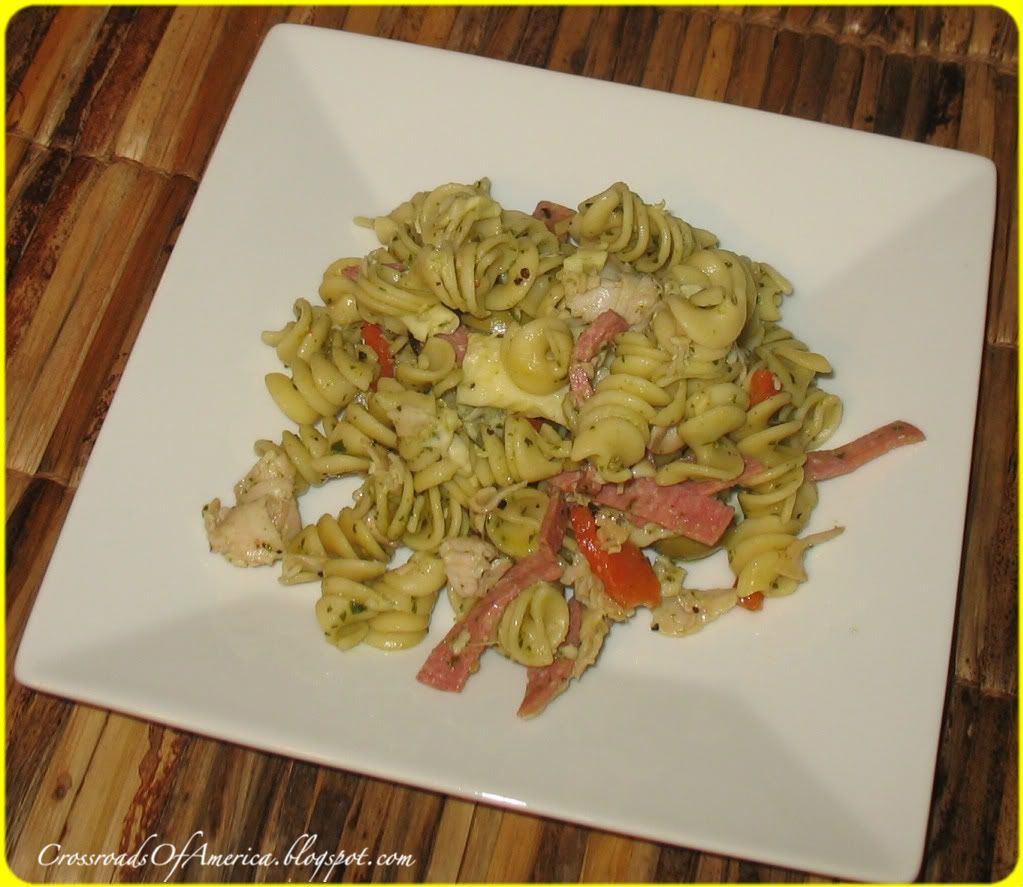 This salad keeps really well, and since it doesn't contain mayo, it's perfect for a picnic. I think the next time I make it I'll also throw in some artichoke hearts.
Makes: 8-12 servings
Prep time: 10 minutes
Cook time: 20 minutes
Printable Recipe
Ingredients:
For the vinaigrette:
1 bunch fresh basil, stemmed and chopped (about 2 cups)
1/4 cup red wine vinegar
1 clove garlic
1 t Dijon mustard
1/2 t salt
1/2 t freshly ground black pepper
3/4 cup extra-virgin olive oil
For the salad:
1 pound spiral (rigatoni, fusilli, etc) pasta
1 cup hard salami, cut into strips
1 cup smoked turkey, cut into strips
1/2 cup provolone cheese, cut into strips
1/4 cup grated Asiago cheese
1/4 cup green olives, halved and pitted
4 T roasted red peppers, cut into strips
1. Add the basil, vinegar, garlic, mustard, salt and pepper to a blender. Puree until the herbs are finely chopped. Drizzle in the olive oil, with the blender running, until the dressing is smooth.
2. Cook pasta per package instructions. Drain and let cool slightly.
3. In a large bowl, toss together the cooked pasta with the remaining salad ingredients. Drizzle with dressing and toss to coat. Season with salt and pepper to taste.
Note: If you're going to take this on a picnic, take a little extra oil in case the pasta absorbs all of your vinaigrette.