I found this excellent idea over at the
Nibble Me This
blog. I smoked an eye of round roast, but you can use deli roast beef instead if you want (you might want to sprinkle it with some Creole seasoning to kick it up a bit). If you use deli roast beef you'll need to make your own au jus for dipping. Just warm a can of beef broth that has been seasoned to taste with Creole seasoning.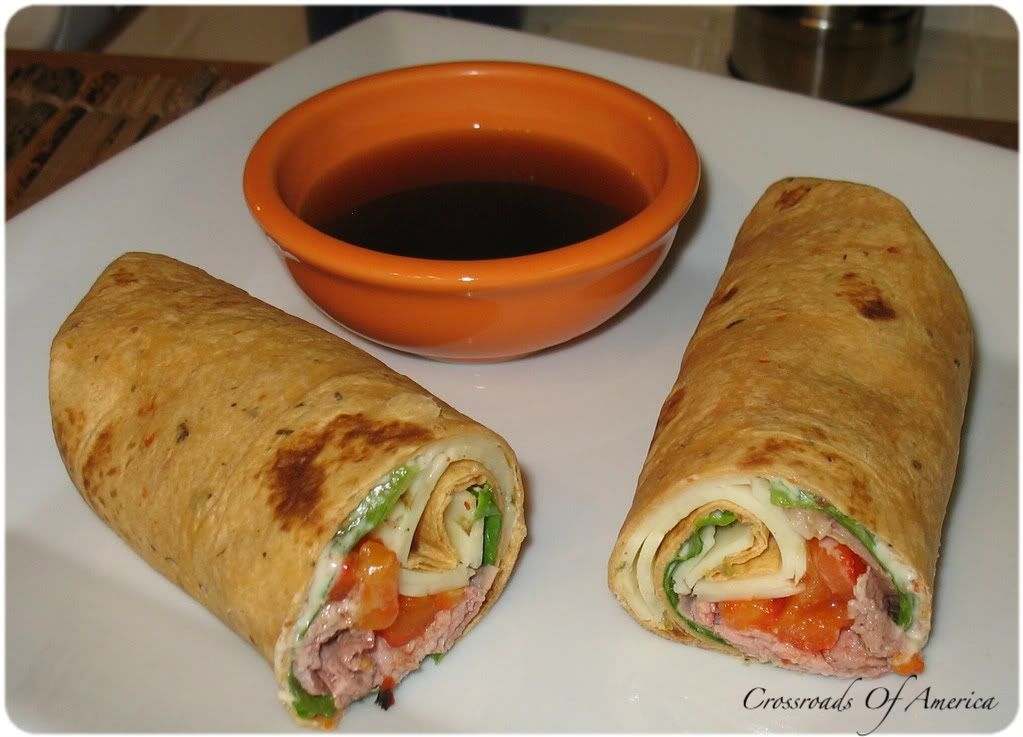 Since they are in season, feel free to roast a fresh red pepper instead of using the jarred kind. Just toss one on the grill and cook until charred on all sides. Let cool then remove the outer flesh while running under cold water, then cut into strips.
Makes: 4 servings
Prep time: 10 minutes
Cook time: 5 minutes
Printable Recipe
4 10" inch wraps
1/2 cup Creole sauce (see below)
4 leaves green leaf lettuce, rinsed, patted dry
1 lb Creole roast beef, sliced thin (see below)
1/2 cup roasted red pepper
4 slices your favorite cheese (I used Pepper Jack)
Au jus (see below)
1. Slather wraps with Creole sauce. Add lettuce, roast beef, red pepper and cheese and roll up like a burrito.
2. Serve with au jus for dipping.
For the Creole Sauce
Prep time: 1 hour
2 T sour cream
3 T coarse ground creole mustard
2 T mayonnaise
1/2 t prepared horseradish
1/4 t garlic powder
1/4 t sugar
1/4 t white pepper
1/4 t kosher salt
1/8 t cayenne pepper (or more, to taste)
1/8 t black pepper
1. Combine all ingredients in a bowl. Cover and refrigerate for 1 hour before using.
For the Creole Roast Beef
Makes: 12 servings
Prep time: 5 minutes
Cook time: 3-4 hours
Ingredients:
3 lb eye of round roast
Creole seasoning
Cajun injector butter (see below)
1. Start smoker and bring it to 250 F.
2. Inject roast with Cajun butter, then sprinkle generously with the Creole seasoning.
3. Put roast on smoker over an aluminum pan to catch the drippings.
4. Smoke until internal temp reaches 135 F (or 130 F for rare). Let set for 15 minutes then refrigerate for at least 1 hour. Slice very thin against the grain.
5. Use the drippings to make the au jus by warming along with a few cups of beef broth.
For the Cajun Injector Butter
Ingredients:
1/2 T kosher salt
1/2 t garlic powder
1/2 t white pepper
1/2 t cayenne pepper
Pinch onion powder
1/2 stick butter
1. Melt butter over medium heat. Stir in remaining ingredients and mix well, or put into a covered container and shake well to combine. Use immediately.
For the Au Jus
If you did not smoke your own roast, you'll want to throw together a simple au jus.
Ingredients:
1 can beef broth

Creole seasoning, to taste

1. Warm broth. Add seasoning to taste. Serve warm.