One of the things I really like about French bread pizza is that it is so easy. No dough to make. And they bake up nice and crunchy.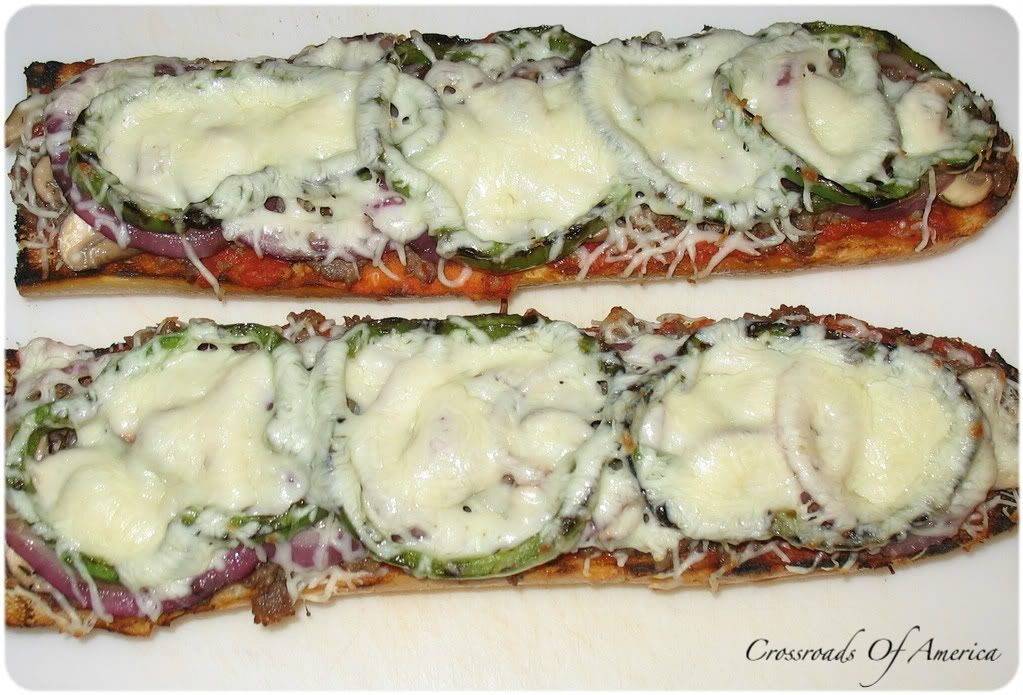 Use whatever toppings you have on hand. I made these on the grill, but you can do them in the oven too.
Makes: 4 pizzas
Prep time: 10 minutes
Cook time: 15-25 minutes
Printable Recipe
Ingredients:
1 lb bulk sausage
1 loaf French bread, cut in half lengthwise
1 green bell pepper, cut into rings
8 oz fresh mushrooms, sliced
1/2 medium red onion, cut into slices
Pizza sauce (use jarred or our favorite homemade)
1-2 cups shredded Mozzarella cheese
Olive oil
1. Preheat grill to medium.
2. Brown bulk sausage in a pan. Remove and drain.
3. Lightly oil the bread on both sides. Put on grill for 30 seconds or until grill starts to get crunchy. Flip and grill until other side is also starting to get crunchy. Remove.
4. Brush pepper rings, mushrooms and onion slices with oil and place on grill. Grill until starting to soften, flipping once. Slice mushrooms.
5. Warm pizza sauce. Slather bread halves with the sauce. Top with sausage, grilled veggies, and cheese. Return to grill and heat until cheese is melted.