These burgers are outstandingly good. The remoulade is my favorite. Have you ever seen the new
Frank's Hot Sauce commercials
? Well, I put this #*@$ on everything!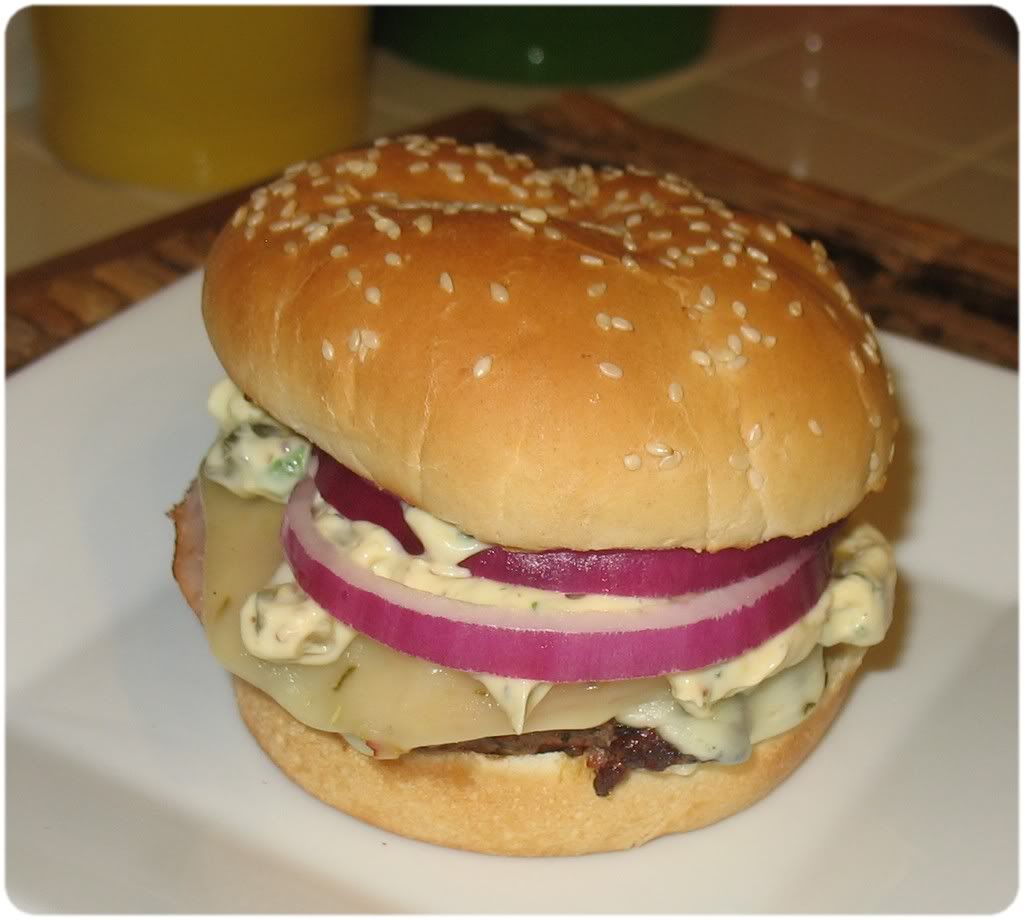 The rub on the burgers is also quite good. I think I may try it on a grilled pork tenderloin too.
I found the original recipe
here
.
Makes: 4 burgers
Prep time: 1 hour 10 minutes
Cook time: 10-20 minutes
Printable Recipe
Ingredients:
2 lbs ground beef
4 Hamburger buns
4 slices tasso (see my note, below)
4 slices Pepperjack cheese
8 thin slices red onion
Remoulade (see below)
Rub (see below)
Note: You can substitute thin sliced smoked ham, but it's not going to be quite the same. If you do use ham, sprinkle it with a little Cajun seasoning to give it a little kick.
1. Divide beef into 4 patties. Sprinkle on all sides with the rub. Grill until almost done.
2. Top patties with cheese and cook another minute until the cheese is melted. Remove from grill at let rest a few minutes.
3. Slather buns with remoulade. Add pattie, tasso, red onion and top bun. Serve.
For the Remoulade:
Ingredients:
1/2 cup prepared mayonnaise
1 T Dijon mustard
1 T whole-grain mustard
1-3 t hot sauce, to taste
5 cornichons, diced
1 green onion, chopped
1 T flat-leaf parsley, chopped
Salt and freshly ground black pepper
1. Combine all ingredients in a bowl. Cover and refrigerate at least one hour before using.
For the rub:
Ingredients:
1 t sweet paprika
2 t freshly ground black pepper
2 t kosher salt
1 t dried thyme
1/2 t garlic powder
1/2 t onion powder
1/2 t cayenne pepper
1. Mix all ingredients.