These are perfect appetizers. Or heck, have them as a main course!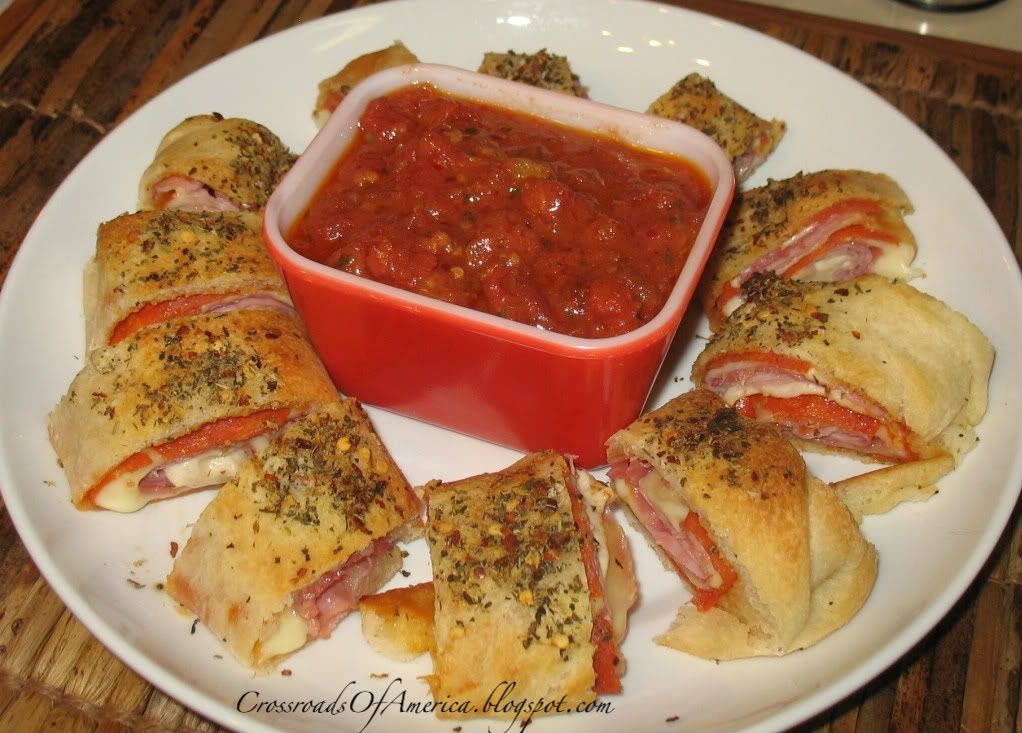 You can use bottled marinara if you want, but this version is so easy to make there's no reason to use store-bought. I found the original recipe
here
.
Be sure to check out our
long-time favorite stromboli
.
Makes: 6 appetizer-sized servings
Prep time: 5 minutes
Cook time: 15 minutes
Printable Recipe
Ingredients:
1 tube Pillsbury pizza dough
2 T all-purpose flour
24 slices pepperoni
8 slices provolone cheese
8 slices Italian hot ham
8 slices Genoa salami
2 T extra-virgin olive oil
2 T sesame seeds
2 T Italian seasoning blend
2 T freshly grated Parmesan cheese
1 t red pepper flakes
1 t garlic powder
Marinara sauce (see below)
1. Preheat oven to 400 F.
2. Roll out the pizza dough to a large square on a lightly floured surface. Using a pizza cutter, divide the dough into four equal sized squares.
3. Layer each piece of dough with equal amounts of pepperoni, cheese, ham, and salami.
4. Beginning at a corner, roll up each piece of dough. The result will look somewhat like a crescent roll; thick in the middle and thinner at the edges.
5. Place rolls on a baking sheet that has been sprayed with non-stick spray. Brush lightly with oil.
6. Combine sesame seeds, Italian seasoning, Parmesan, red pepper flakes and garlic powder. Sprinkle over dough.
7. Bake until golden, 12-14 minutes. Serve with warm marinara sauce.
For the marinara sauce:
Prep time: 5 minutes
Cook time: 7 minutes
Ingredients:
1 T extra-virgin olive oil
3 cloves garlic, minced
1 t red pepper flakes
1 T anchovy paste
1 T parsley, chopped
1 15 oz can crushed tomatoes
1. Heat oil over medium heat in a small pot.
2. Add the garlic, pepper flakes and anchovy paste and cook 2 minutes.
3. Add parsley, tomatoes, and salt and pepper to taste. Stir, bring to a boil, then reduce heat and simmer 5 minutes.