We enjoy having roasted cauliflower, or broccoli or other veggies. So when I came across
this interesting twist on cauliflower over on the Proud Italian Cook blog
, I was anxious to make it.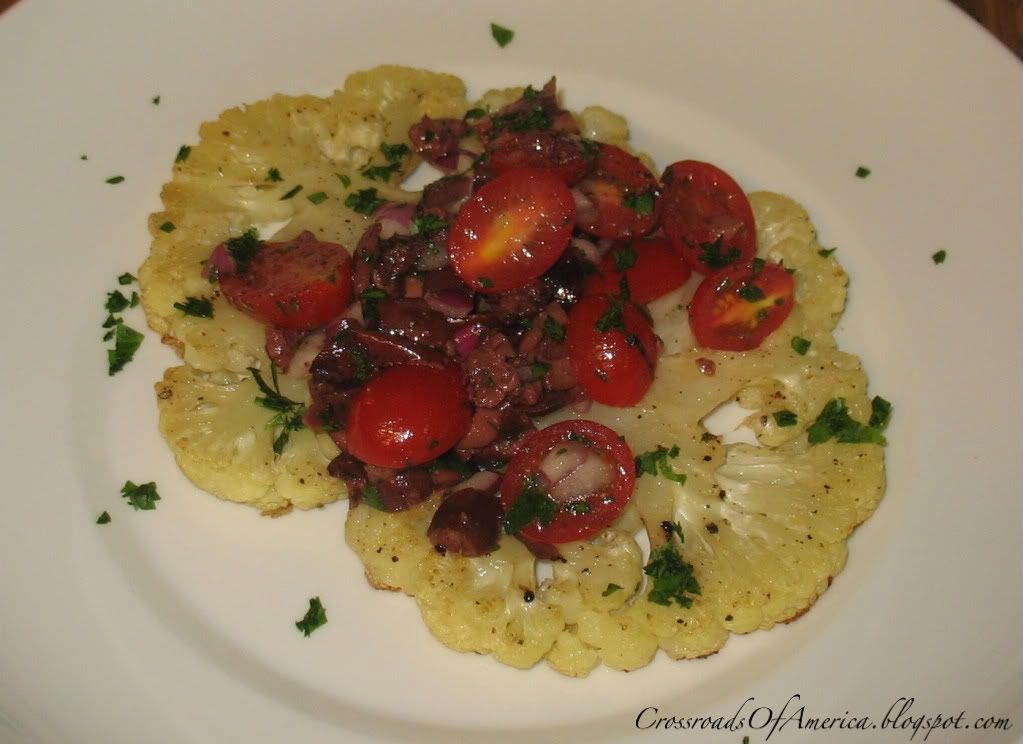 Makes: 4 servings
Prep time: 10 minutes
Cook time: 25-30 minutes
Printable Recipe
Ingredients:
1 medium head cauliflower
Olive oil
Salt and pepper
2 T freshly grated Parmesan cheese
8-10 cherry tomatoes, halved
8-10 Kalamata olives, chopped
1 T fresh parsley, chopped, divided
2 T red onion, diced
1. Preheat oven to 400 F.
2. Stand the cauliflower on end and cut into 1/2" slices. Place in a baking sheet that has been sprayed with non-stick spray. Brush with olive oil. Season with salt and pepper and sprinkle with Parmesan cheese.
3. Place in oven for 15 minutes. Flip and cook another 10 minutes or until stalks are tender and florets are starting to brown.
4. Combine the tomatoes, olives, red onion and one half tablespoon of the parsley. Add about a tablespoon of oil and mix.
5. Serve cauliflower topped with the tomato mixture and the remaining parsley.