I cannot tell you how good these were. First, you can't beat Mexican chorizo in a burger. Add to that a fantastic, but easy, avocado mayonnaise, and you have a great dish.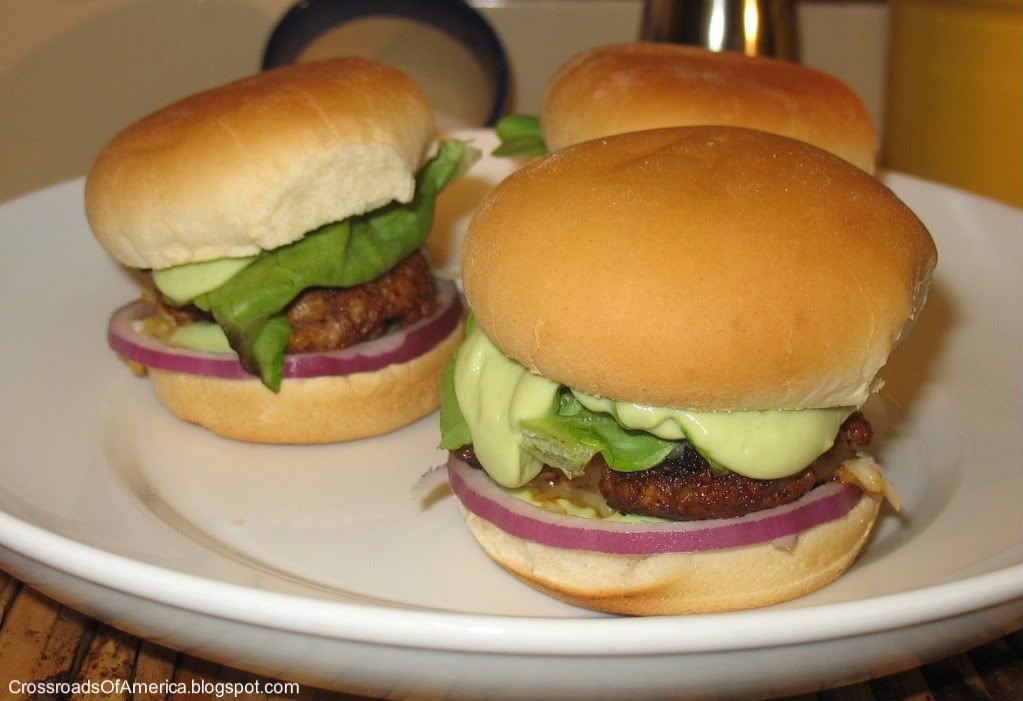 I can't recall where I found the original recipe, but it called for using ground Spanish chorizo instead of Mexican style. While Mexican chorizo is seasoned with chili peppers and vinegar, Spanish chorizo is made basically with pork, sweet paprika and garlic, and is cured either to a hard sausage consistency, to be sliced and eaten as an appetizer, or to a softer consistency to use in cooking.
Makes: 10 sliders
Prep time: 10 minutes
Cook time: 15 minutes
Printable Recipe
Ingredients:
1/2 lb Mexican chorizo
1 lb ground pork
1/4 cup Worcestershire sauce
1 T paprika
1 cup Queso blanco, shredded (any good melting Mexican cheese will do)
2 small ripe avocados
1 lemon
1 garlic glove, minced
1/4 cup light cream
10 slider rolls
Lettuce and red onion, sliced, for topping
1. Heat cast iron skillet over medium-high heat.
2. Place chorizo and pork in a bowl with the Worcestershire sauce, paprika, and salt and pepper to taste. Add a quick drizzle of olive oil. Combine well and form into small patties.
3. Cook patties for 3 minutes per side. Top with cheese and melt.
4. For the sauce, place avocados, lemon juice, garlic, and cream into a food processor and puree until smooth and mayonnaise-like.
5. Serve the sliders on buns topped with lettuce, onions and the avocado sauce.