This is a fairly complicated dish, but it is well worth the effort. You can substitute boneless, skinless chicken breasts if you wish, but thighs (skinless or not) give it a much richer flavor.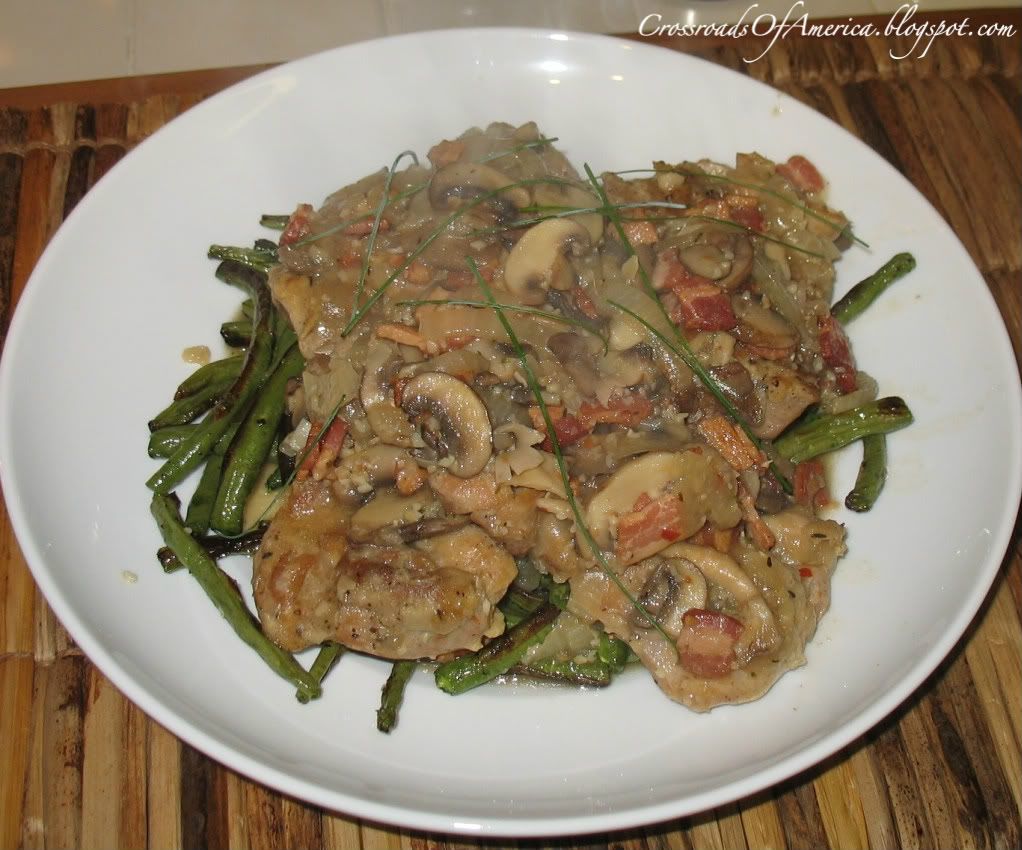 The
original recipe
came from Anne Burrell. You can serve this over rice, pasta, or over roasted green beans as we did.
Makes: 4 servings
Prep time: 15 minutes
Cook time: 1 1/2 hours
Printable Recipe
Ingredients:
Olive oil
8 chicken thighs
1/2 lb bacon, cut into 1/2" pieces
2 large onions, julienned
1/4 t crushed red pepper flakes (or more, to taste)
4 garlic cloves, minces
2 lbs assorted mushrooms, sliced
2 cups dry white wine
4 - 6 cups chicken stock
1 bundle thyme
4 bay leaves
1/2 cup whole blanched almonds, toasted
Chives, for garnish
1. Coat a large pan with oil. Heat over high heat. Add the chicken and brown on both sides, about 3 minutes per side. Remove.
2. Lower heat. Add in the bacon and cook until starting to brown.
3. Add in the onions, season with salt and pepper, add the crushed red pepper, and sweat for 7-8 minutes.
4. Add in the mushrooms. Stir, and cook another 3-5 minutes or until the mushrooms have softened.
5. Add wine and reduce by half.
6. Add chicken back in. Add more stock to cover the chicken. Add thyme and bay leaves. Bring to a boil then reduce to a simmer. Continue simmering for 30-35 minutes, adding more stock if necessary.
7. Place the almonds in a blender or food processor. While blender is running, slowly drizzle in olive oil until a paste is formed. Season with salt and pepper.
8. Remove chicken from pan. Stir almond paste into sauce. Bring to a boil, then reduce to a simmer. Continue simmering until the sauce has thickened.
9. Serve chicken with mushroom sauce. Garnish with chives.