A good friend of mine,
Chez John
, turned me on to the idea of a chicken fried bologna sandwich, which is crusted with saltines. I dug around in the pantry and found a box of Cheezits and thought I'd give them a try instead.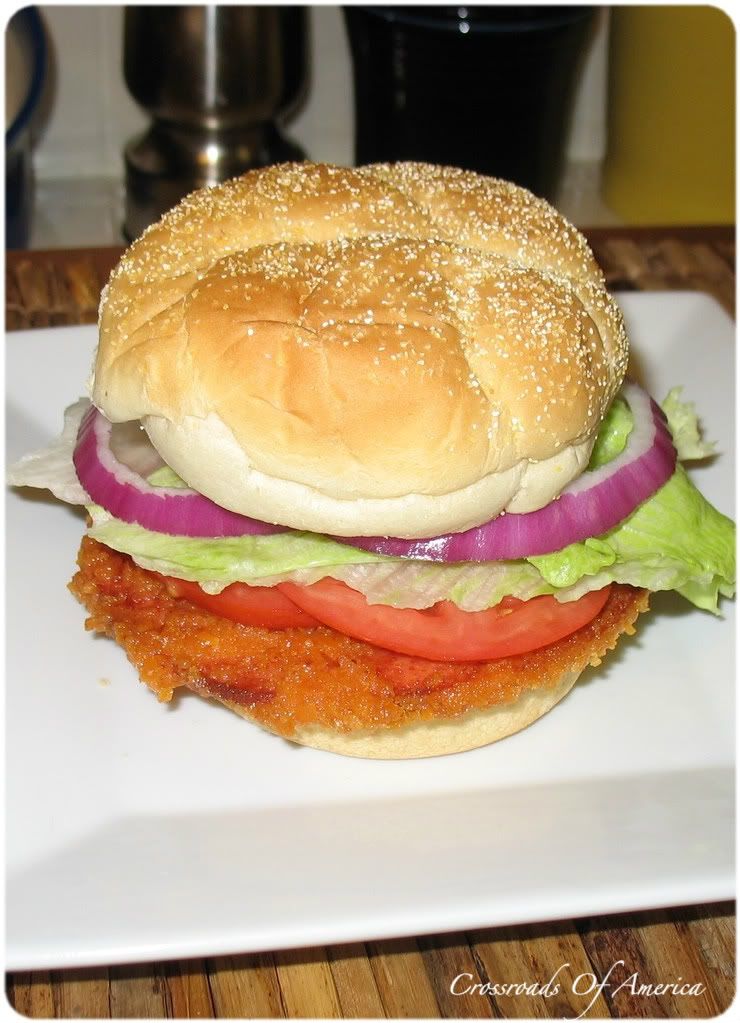 I have to say that these came out mighty tasty. You can also use old chip crumbs. Just give them a quick whirl in the chopper.
Makes: 2 sandwiches
Prep time: 5 minutes
Cook time: 5 minutes
Printable Recipe
Ingredients:
2 slices thick-cut bologna
1/2 cup flour
1 egg
1 cup Cheezit crackers, finely crushed
Oil, for frying
2 hamburger buns
Iceberg lettuce
Tomato, sliced
Red onion, sliced
Mustard
1. Place egg in a shallow bowl. Scramble slightly. Place flour in another bowl, and crackers in a third.
2. Add enough oil to a frying pan to cover the bottom. Heat over medium-high heat.
3. Place a slice of bologna into the flour. Coat well, then coat the other side. Transfer to egg and coat both sides. Shake off excess then dip into the cracker mix, coating both sides.
4. Fry bologna a few minutes per side until browned. Repeat with other slice of bologna.
5. Assemble sandwiches by topping bun bottoms with bologna, some lettuce, a few slices of tomato and red onion, and mustard. Top with bun top and serve.