These really came out great! The tenderloin is tasty, tender and juicy, and the adobo mayo is really good too!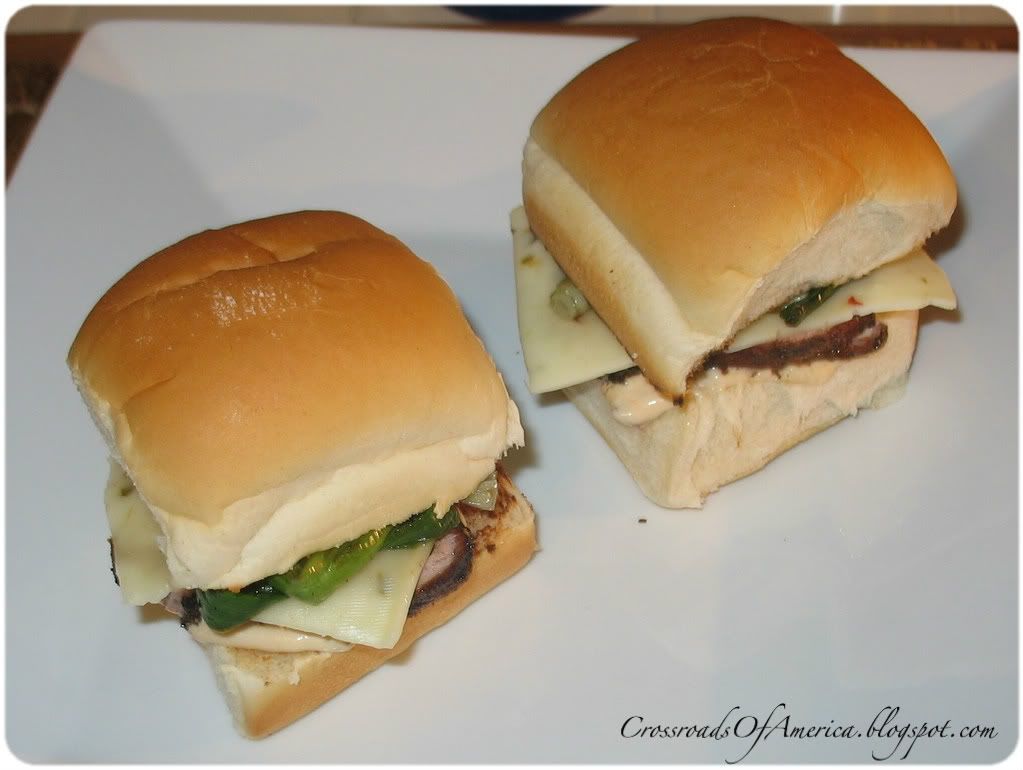 You can substitute grilled red onion for the green onions if you wish.
Makes: 8-12 sliders
Prep time: 10 minutes
Cook time: 35 minutes
Printable Recipe
Ingredients:
2 T olive oil, divided
1-2 lb pork tenderloin
2 t chili powder
3/4 t ground cumin
1/2 t salt
1/2 t black pepper
1 bunch green onions
1/2 cup mayonnaise
1 chipotle pepper in adobo sauce, minced
1/2 lime, juiced
12 slider rolls, sliced in half horizontally
12 slices Monterrey Jack cheese
1. Prepare grill for direct cooking.
2. Rub oil over tenderloin. Combine the chili powder, cumin, salt and black pepper in small bowl. Rub mixture onto the tenderloin.
3. Place green onions in a bowl and drizzle with remaining oil. Toss to coat.
4. Combine mayonnaise, chipotle pepper and lime juice is small bowl until well blended. Cover and refrigerate. Note: You may want to add some more of the adobo sauce, to taste.
5. Grill tenderloins until temperature reaches 145 F, about 15-20 minutes, turning occasionally. Remove to a plate and cover with foil. Let rest 10 minutes.
6. Grill green onions until wilted and starting to brown, 3-4 minutes. Remove and chop coarsely.
7. Cut the tenderloin into thin slices.
8. To serve, spread mayo mixture on rolls. Top with tenderloin, cheese, and green onion.