This is
another great idea from the BBQ Pit Boys
. I made these on my Weber Performer.
I did not trim up the wings, but you can if you want. You can also cut them at the joint if you prefer. I served them topped with the hot sauce mixture, with more sauce on the side for dipping. You might also want some ranch or blue cheese dressing for dipping.
Here's a picture of the wings just going on the grill: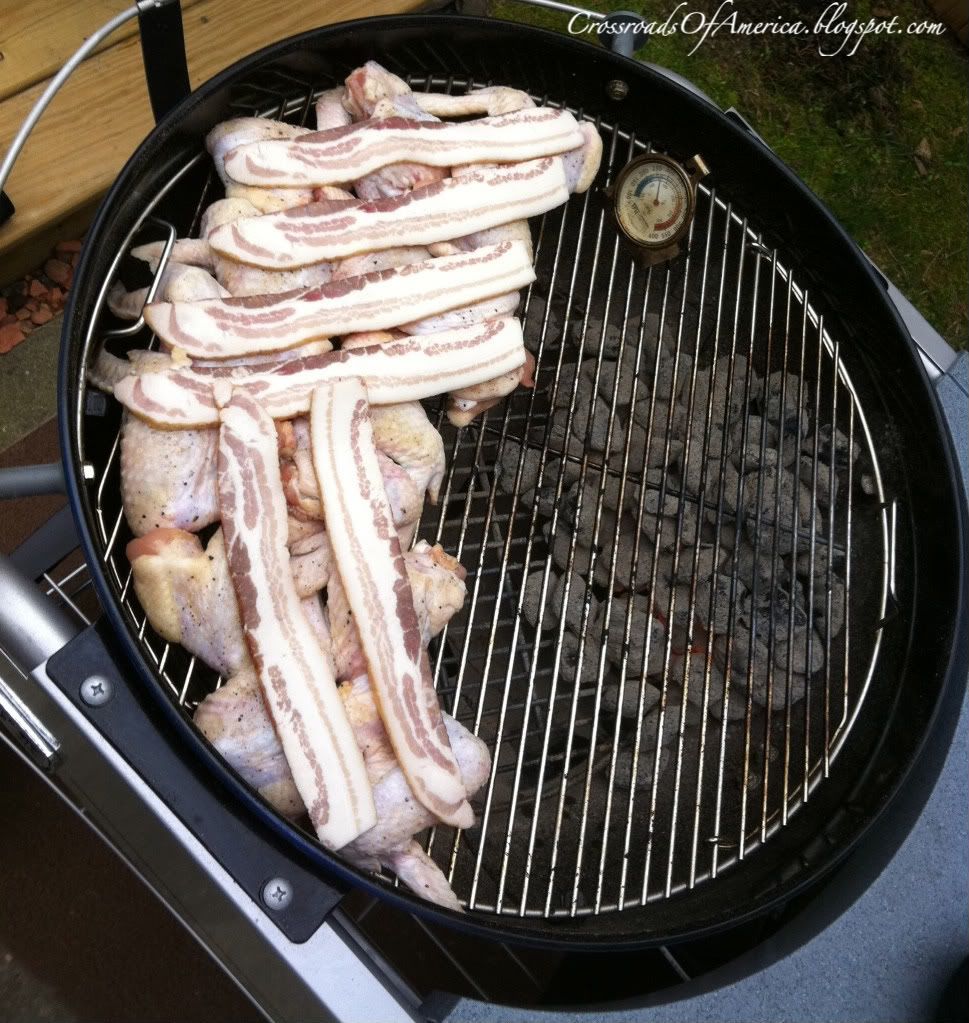 Wings are all done, covered with cheese and chopped bacon:
Makes: 4 servings
Prep time: 5 minutes
Cook time: 1 hour
Printable Recipe
Ingredients:
24 chicken wings (trim and cut if you desire)
2 t salt
1 t fresh ground black pepper
1 t granulated garlic
6-8 slices thick cut bacon
1-2 cups cheddar cheese , shredded
1/2 stick butter
1/2 cup hot sauce (I used Frank's Red Hot)
1. Prepare grill for indirect grilling.
2. Combine salt, pepper and garlic and season the wings.
3. Place wings over indirect heat, packed in tightly. Layer with bacon and cook at 300 F for about 50 minutes or until wings are done.
4. Remove bacon from wings and place over direct heat until crispy. Remove and chop, then mix with the cheese. Sprinkle bacon cheese mixture over wings and heat another 10 minutes or until the cheese is melted. Remove chicken from grill.
5. In a sauce pan, combine the butter and hot sauce and heat until the butter is melted.
6. Serve chicken drizzle with hot sauce and more sauce on the side for dipping.