This is an excellent recipe from the
Steamy Kitchen
. We had it as a side with Greek burgers and also with grilled chicken gyros. This makes a big batch, but it goes fast!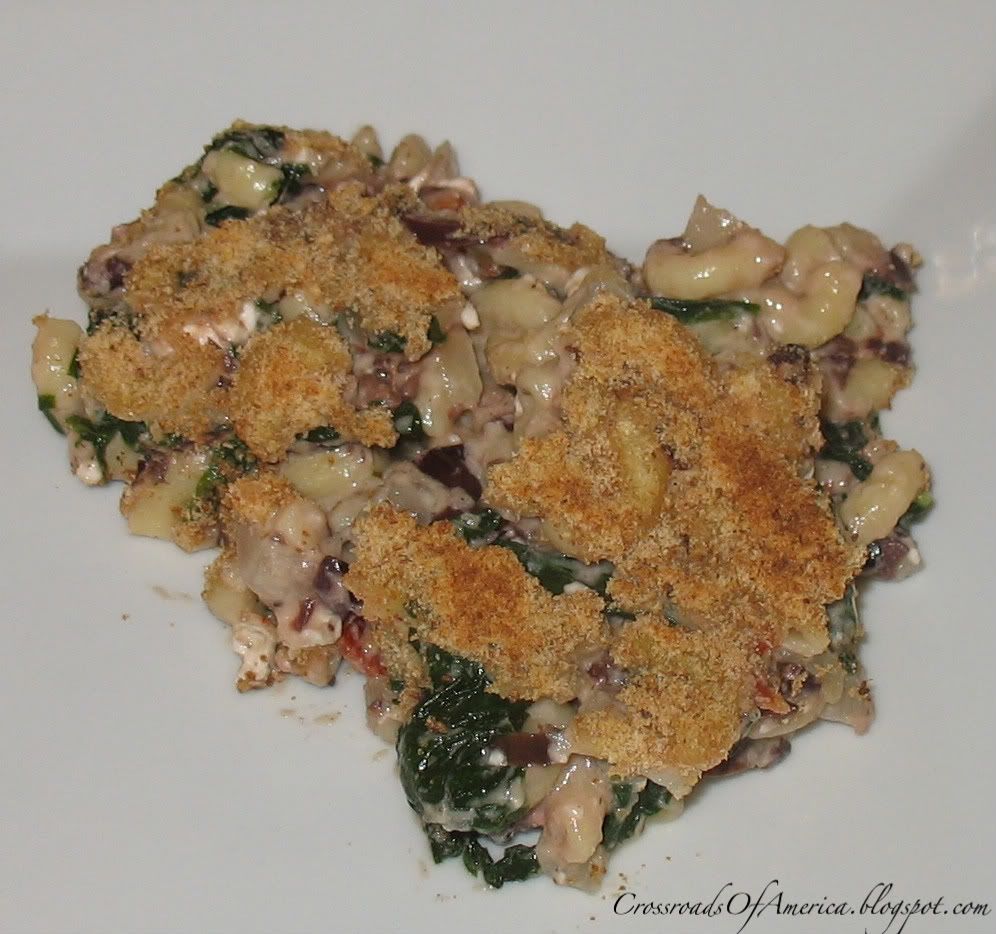 Makes: 12-16 servings
Prep time: 15 minutes
Cook time: 20 minutes
Printable Recipe
Ingredients:
1 lb elbow macaroni
Olive oil
1 medium onion, chopped
1 clove garlic, minced
1 bunch fresh spinach, stems removed if desired, roughly chopped
3 T flour
3 cups milk
1/8 t dried nutmeg
2 cups Havarti cheese with dill , shredded
1 8 oz package feta cheese, crumbled
1 12 oz jar Kalamata olives, chopped
1 T capers
2 T sun-dried tomatoes, chopped
1/2 cup bread crumbs
1. Cook pasta according to box directions. Drain well.
2. Meanwhile, heat one tablespoon of oil in a large skillet over medium heat. Add the onions and cook until softened, 3-4 minutes.
3. Add garlic and cook another 2-3 minutes.
4. Add spinach and a pinch of salt. Cook until spinach is wilted. Remove mixture to a bowl. Wipe skillet clean.
5. Add two tablespoons of oil. Once the oil is hot whisk in the flour. Add a large pinch of salt, some fresh ground black pepper and the nutmeg. Continue whisking until the roux turns a light golden color.
6. Whisk in the milk and bring to a boil, stirring constantly. Reduce heat and simmer, stirring, for about 5 minutes or until the mixture thickens. Add in the Havarti cheese and stir until melted. Add the feta and stir.
7. Add the bowl of the spinach mixture, along with the olives, capers and sun-dried tomatoes.
8. Spray a 9x13 baking dish with non-stick spray. Add in the macaroni and cheese mixture. Combine well. Top with bread crumbs and place under broiler for 5 minutes until the crumbs are browned.