Oh me, this is good eats. The chicken is moist with a little crunch from the panko, and a little hint of ranch. The ranch remoulade closes the deal.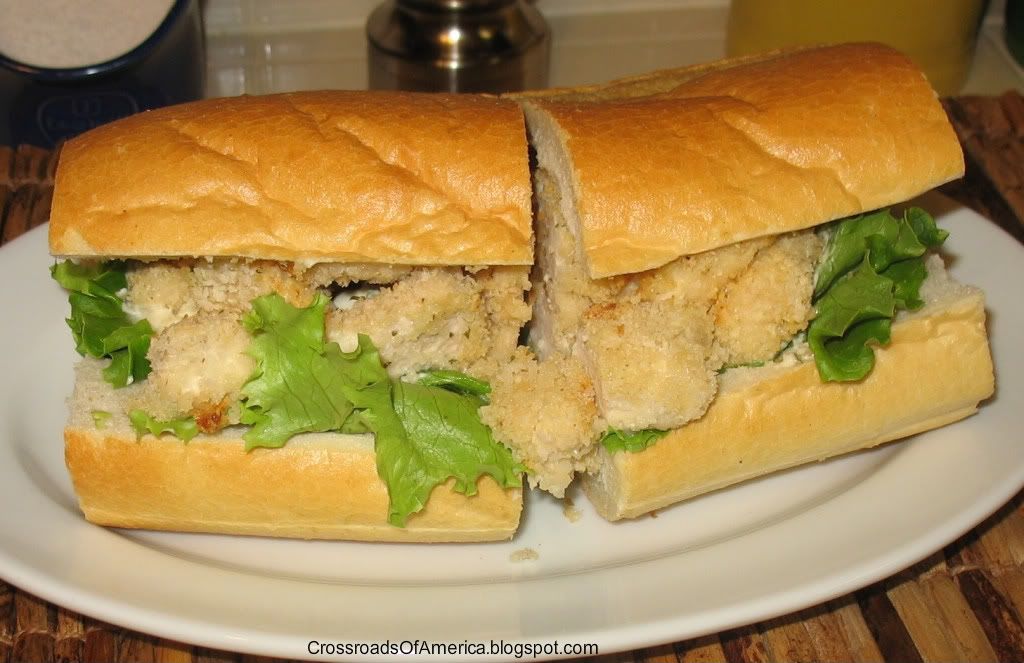 Makes: 4 large po'boys
Prep time: 10 minutes
Cook time: 25 minutes
Printable Recipe
Ingredients:
1 lb chicken breasts, cut into bite-sized chunks
1/4 cup mayonnaise
1 1/2 cups panko bread crumbs
1 packet Ranch dressing mix
Ranch remoulade (see below)
1 loaf French bread
Green leaf lettuce
1. Preheat oven to 375 F.
2. Combine chicken with mayonnaise in a bowl.
3. Combine panko and ranch in a pie plate.
4. Dredge chicken in the panko mixture and place on a baking sheet that has been sprayed with non-stick spray. Bake for 20-25 minutes or until juices run clear.
5. Cut French bread in half and slather with the remoulade. Add lettuce and top with chicken.
Ranch Remoulade
Ingredients:
1 cup mayonnaise
1/4 cup Ranch dressing
1/2 cup dill pickle, diced
1 T Dijon mustard
1 T dill pickle juice
1. Combine ingredients.