Lemon and cinnamon in chicken noodle soup? That just doesn't sound right, does it? Well, I decided to give it a shot after reading all of the positive comments on
this recipe from Chef Anne Burrell
.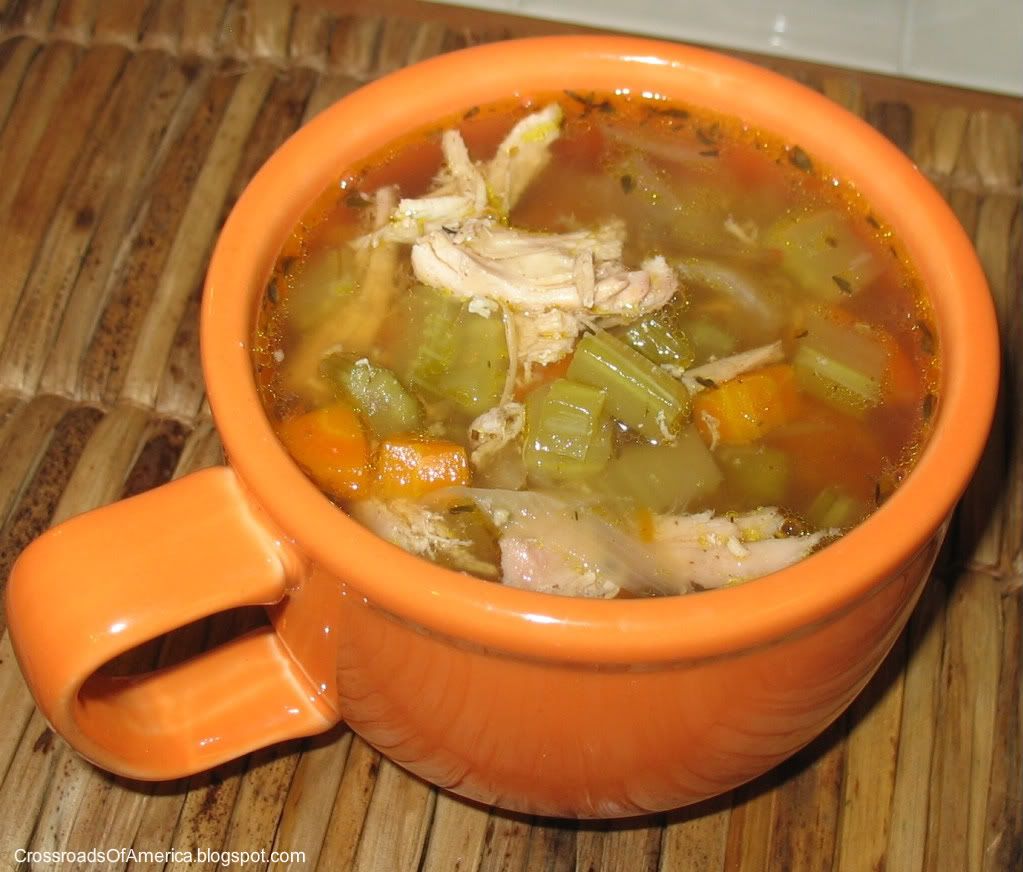 I had some chicken leftover so I used that instead of roasting a chicken. You can also use rotisserie chicken from the grocery store, if you'd like.
Makes: 6-8 servings
Prep time: 10 minutes
Cook time: 1 hour
Printable Recipe
Ingredients:
2 T olive oil
1 large onion, cut into 1/2" slices
4 ribs celery, cut into 1/2" dice
3 carrots, cut into 1/2" dice
2 cloves garlic, minced
2 t crushed red pepper flakes
1 t dried thyme
2 cups cooked chicken
6-8 cups chicken broth
2 bay leaves
1 lemon, halved
1 t ground cinnamon (more or less, to taste)
1 t dried nutmeg (more or less, to taste)
2 cups orzo pasta
1 15oz can garbanzo beans, rinsed and drained
1. Add oil to a large pot or Dutch oven. Add the onion, celery, and carrots. Season with salt and cook over medium-high heat until vegetables start to soften.
2. Add the garlic, crushed red pepper and thyme and cook another 3 minutes.
3. Add the chicken and bay leaves and enough broth to completely cover everything in the pot and cook for 20 minutes.
4. Add the juice of the lemon plus the two halves, cinnamon and nutmeg and season with salt and pepper. Simmer for 30 minutes.
5. Cook the oroz per the box instructions, except stop 1-2 minutes early so that the pasta is still a little al dente. You don't want to cook it completely since it will cook more in the soup. Drain well.
6. Remove lemon and bay leaves from soup. Add beans and orzo. Stir well, serve.