I recently came across
this recipe
in a Saveur emailing. Anita made it last night and it is just absolutely outstanding. We would absolutely make this again, specially since strawberries are in season right now.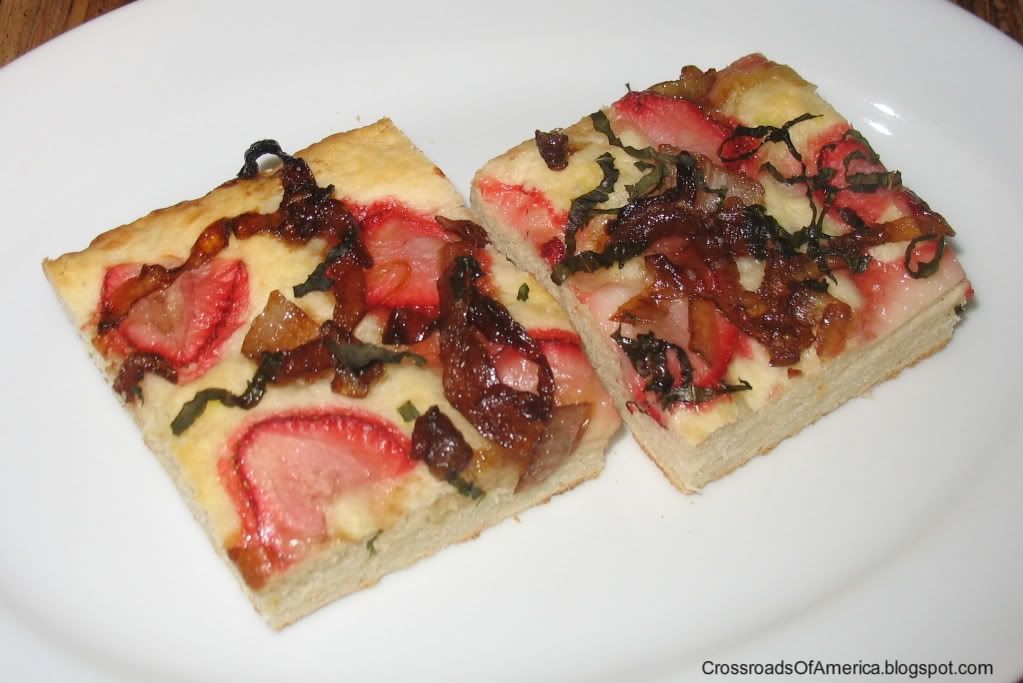 Use a quality balsamic vinegar when making this as it makes a big difference. We did make a minor change to the original recipe as the amount of yeast stated was incorrect.
Here's the bread just before going into the oven.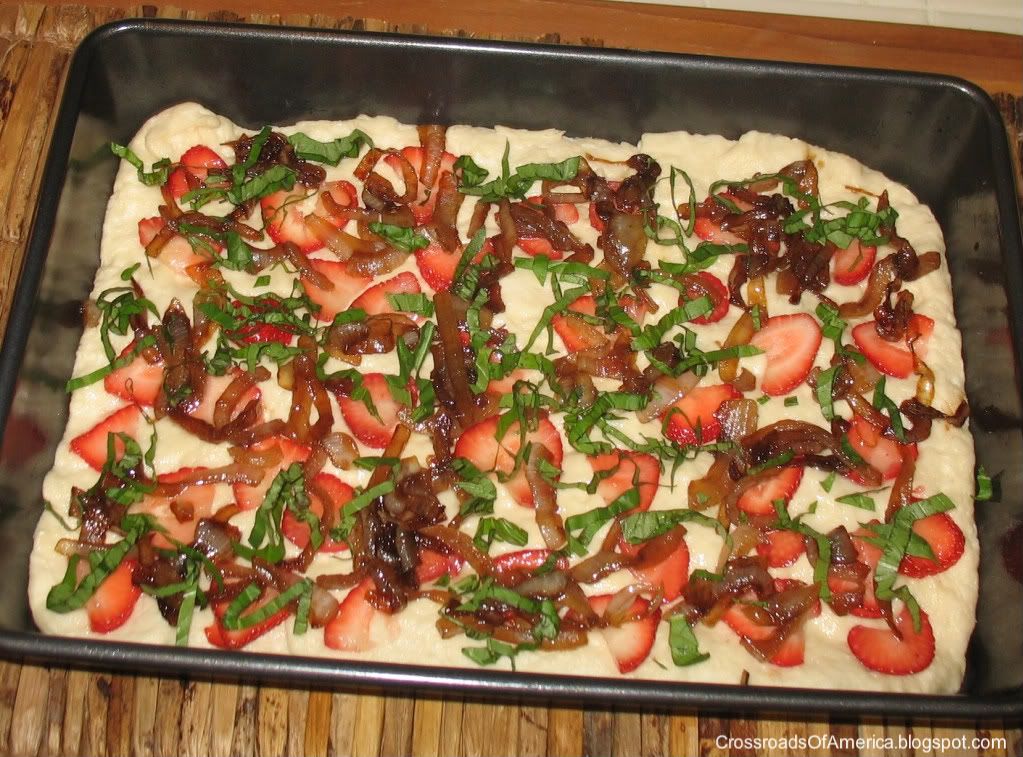 All baked! The house smelled great!
Makes: 12 slices
Prep time: 2 hours
Cook time: 20 minutes
Printable Recipe
Ingredients:
2 1/2 t dry yeast
1 cup warm water (around 100 F)
1 t honey
2 1/2 cups all-purpose flour
1 t sea salt plus a little more for topping
1/4 cup plus 5 T olive oil, divided
1 medium sweet onion, quartered and thinly sliced
2 1/2 t balsamic vinegar
1 1/2 t pure maple syrup
1 cup strawberries, hulled and sliced into 1/8" pieces
8 fresh basil leaves, chiffonade
1. Place the yeast, warm water and honey in a small bowl and mix. Let rest for at least 5 minutes until the yeast blooms.
2. Whisk together the flour and one teaspoon of salt together in a large bowl. Make a well in the center of the flour.
3. Add 1/4 cup of the oil to the yeast mixture and mix. Pour the yeast mixture into the well in the flour mixture. Stir to combine.
4. Turn out the dough on a lightly floured surface and knead until dough is smooth, about 10 minutes. If the dough is too dry, add a little water to it.
5. Form dough into a ball. Grease a large bowl with 1/2 tablespoon of oil and add the dough ball. Roll the ball around to get it covered in the oil. Cover the bowl with plastic wrap and let rise until it is doubled in size, about an hour.
6. Grease a 9" x 13" baking sheet with 1/2 tablespoon of the oil. Place dough ball on the sheet and flatten it out to the edges of the sheet. Make indentations in the dough with your fingers and then brush the top with two tablespoons of oil. Cover and let rest for 30 minutes.
7. Preheat oven to 450 F.
8. Heat one tablespoon of oil in a large skillet over medium heat. Add the onion and cook until browned and caramelized, stirring often, about 15-20 minutes. Add in the balsamic vinegar and syrup and cook another 2-3 minutes. Remove from heat and let cool.
9. Press the strawberry slices into the dough. Top with the onions and basil. Drizzle one tablespoon of oil over the top and sprinkle with salt to taste.
10. Bake until the bread is golden brown, about 20 minutes.