Mmmmm, yummy!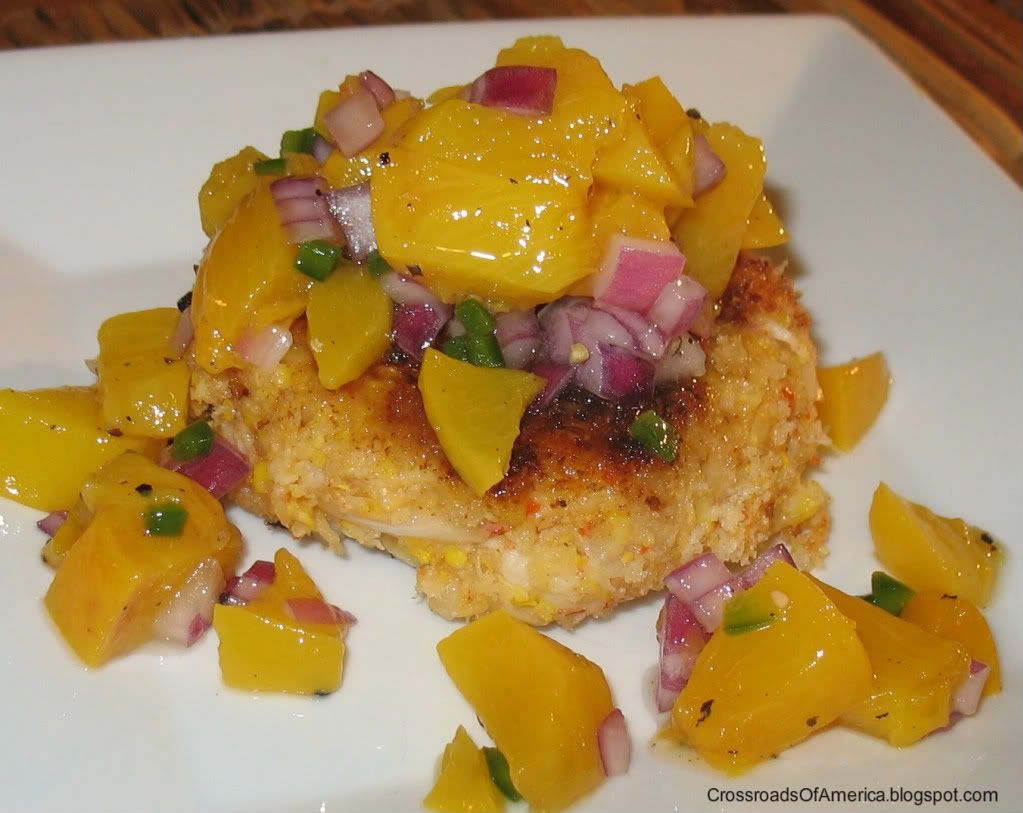 The salsa is better if you make it a day ahead. For the shrimp, use wild caught shrimp from the USA.
Makes: 6 cakes
Prep time: 20 minutes
Cook time: 10 minutes
Printable Recipe
Ingredients:
1 lb shrimp, deveined, cooked, peeled and chopped
2 cups corn
1/2 red bell pepper, diced
1 small onion, chopped
1 jalapeño, seeded and chopped
2 cups panko bread crumbs, divided
Hot sauce
1/2 t chili powder
2 eggs, beaten
Salt
Freshly ground black pepper
2 T vegetable oil
Peach salsa (see below)
1. Place shrimp in a food processor or blender and pulse. Remove to a large bowl.
2. Add corn, red pepper, onion and jalapeño and pulse until fine. Remove to a cheesecloth squeeze to remove all liquid. Add to shrimp along with 1 cup of the bread crumbs, a few dashes of hot sauce, the chili powder and eggs. Stir well. Form into 1" thick cakes and place in refrigerator for 15 minutes to let set.
3. Heat oil in a large skillet medium heat.
4. Place the remaining 1 cup of bread crumbs in a shallow dish. Season to taste with salt and pepper.
5. Roll cakes in the panko mixture and add to skillet, cooking about 4 minutes per side. Remove to a paper towel-lined plate.
6. Serve topped with the peach salsa.
Peach Salsa
3 peaches, diced
1/2 red onion, diced
1 jalapeño, seeded and diced
1/2 lime, juiced
1 T sugar
1/2 t salt
1/4 t freshly ground black pepper
1. Combine all ingredients. Refrigerate overnight before using.