With strawberries in season, I thought I'd make an easy sorbet using our ice cream maker.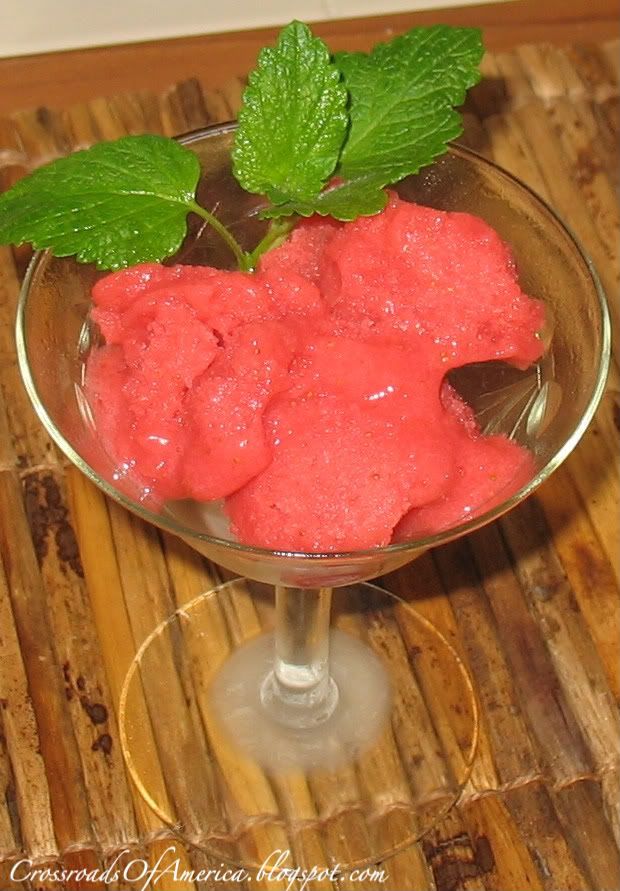 Mint grows wild in our backyard, so I just snipped off a bit for garnish.
Makes: 2 servings
Prep time: 5 minutes
Cook time: 1 hour 20 minutes
Ingredients:
1/4 cup sugar
1/4 cup water
1 pint strawberries, hulled and sliced
1 T fresh lime juice
2 T light corn syrup
1. Bring the sugar and water to a boil in a medium saucepan over medium-high heat.
2. Reduce the heat and simmer, without stirring, until the sugar dissolves, about 3 minutes. Remove from heat and cool completely.
3. Place strawberries and lime juice into a blender and puree. Press the puree through a strainer to remove the seeds.
4. Add the syrup to the strawberry puree and add in the corn syrup. Stir.
5. Add mixture to your ice cream maker and process according to instructions. Freeze for 30 minutes to an hour before serving.