This may be the best ham I've ever had. Ok, so the picture doesn't necessarily conjure up thoughts of a tender, juicy, fantastic tasting ham, but let me tell you, it is.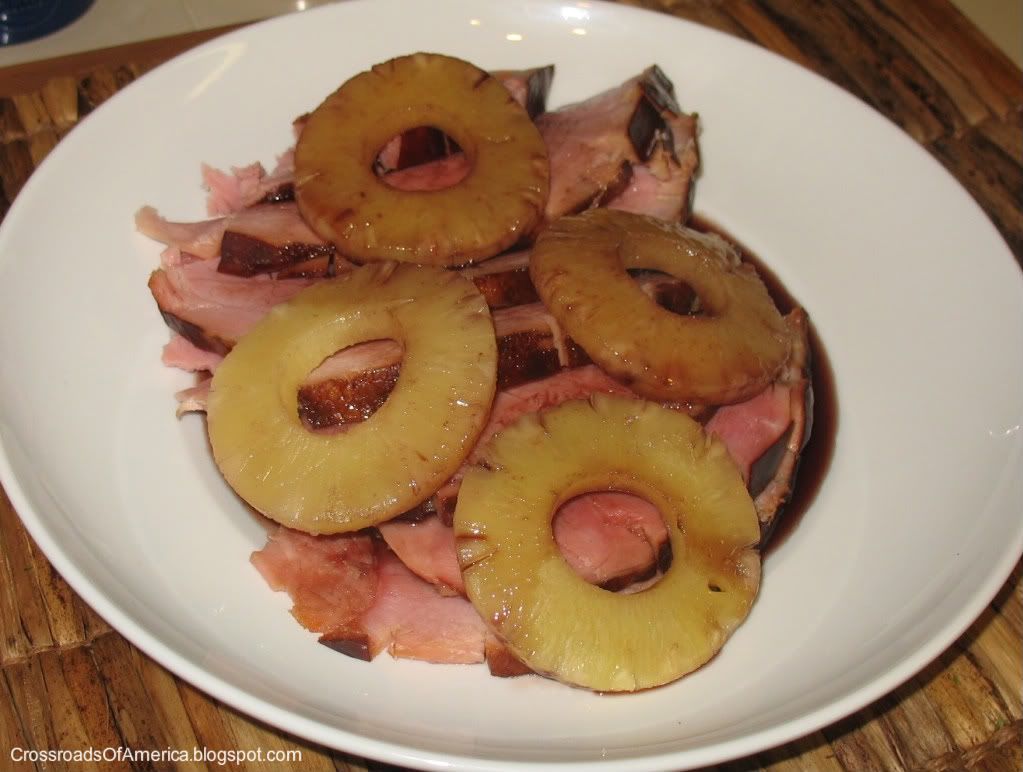 I will probably not do a ham any other way again. This is definitely my go-to recipe, which I got from the
Steamy Kitchen
, which almost no changes.
Makes: 10 servings
Prep time: 1 hour
Cook time: 15 minutes/pound plus 30 minutes
Printable Recipe
Ingredients:
6 pound ham (I used a bone-in ham in natural juices)
2 1/2 cups grape juice (I used Welch's), divided
2 1/2 cups Coca Cola, divided
20 oz can of sliced pineapple
2 cups brown sugar
1. Let ham set at room temperature for 1 hour.
2. Preheat oven to 275 F.
3. Rinse ham and pat dry. Score with a knife in a criss-cross pattern. Place on a rack in a roasting pan. Add in 1 1/2 cups of the grape juice and the cola, then add water until the liquid is 1/2" deep. Cover in foil (tightly) and roast for 15 minutes per pound or until center of ham reads 100 F on a quick read thermometer.
4. Meanwhile, add the remaining grape juice and cola, the brown sugar and the liquid from the pineapple to a sauce pan. Bring to a boil then reduce to a simmer and simmer 20 minutes or until the sauce starts to thicken. Remove from heat and let cool.
5. Remove ham from oven. Increase oven temp to 425 F. Drizzle or brush about 1/4 cup of the sauce over the ham. Attach pineapple slices to ham with toothpicks. Return to oven for 15 minutes, uncovered. Remove and let set 15 minutes before carving.
6. Warm the remaining glaze and drizzle over ham slices before serving.