This makes a really great main dish. You won't be disappointed.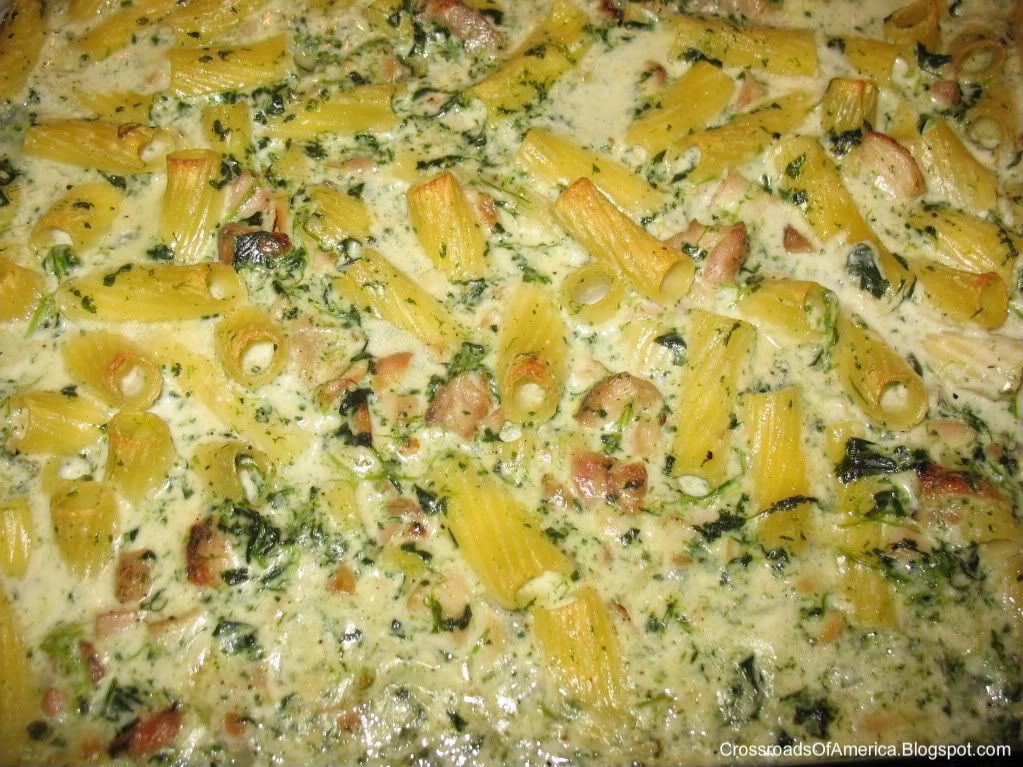 The
original recipe
came from Patio Daddio BBQ. Check out his
blog
.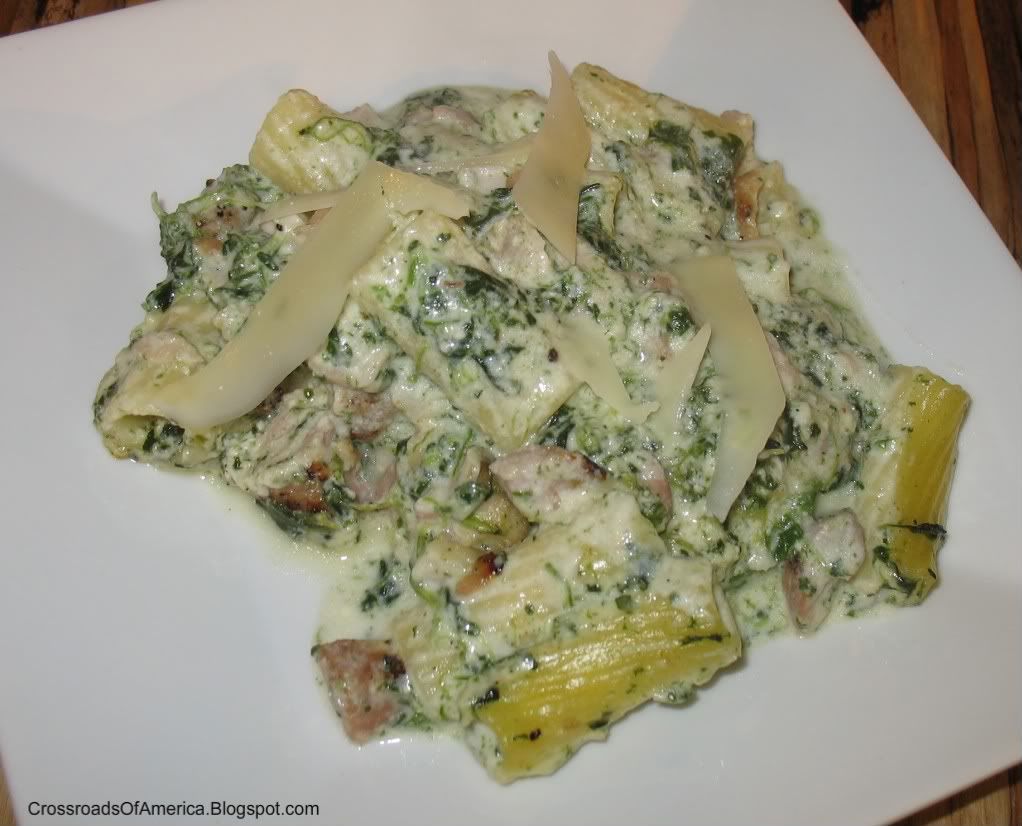 Makes: 6 servings
Prep time: 10 minutes
Cook time: 1 hour
Ingredients:
6 boneless, skinless chicken thighs, trimmed
1 lb rigatoni pasta
12 oz frozen spinach, thawed
16 oz heavy whipping cream
4 cups milk
8 oz sour cream
1 cup Italian cheese blend
2 T butter
2 T vegetable oil
2 T all-purpose flour
1 1/2 T garlic, minced
2 t garlic salt
2 t salt
1 t black pepper
1/2 t White pepper
1/2 t cayenne
1/4 t nutmeg
Fresh Parmesan cheese, for garnish
1. Mix garlic salt and black pepper. Season chicken pieces. Let sit at room temperature while you pre-heat your grill to medium-high and cook the pasta per box instructions, minus 1-2 minutes (the pasta will cook further when baked).
2. Preheat oven to 350 F.
3. Brush the chicken with one tablespoon of the vegetable oil. Grill until done, about 3 minutes per side.
4. While the pasta is draining, place the spinach on top to let it also drain.
5. Heat a large sauce pan over medium-high heat. Add butter and remaining vegetable oil. Once hot, add the flour and whisk until it turns blond in color.
6. Reduce heat slightly and add the cream. Bring to a slight boil while whisking continuously.
7. Add the milk, salt, garlic, white pepper, cayenne and nutmeg to the pan. Whisk constantly and bring back to a slight boil.
8. Add the cheese and sour cream to the pan let it simmer, whisking constantly. Remove from heat. Do not worry if the sauce is a little thin.
9. Cut the chicken into 1/4" pieces and put it into a large bowl. Add the spinach and pasta.
10. Add the sauce to the bowl and gently combine.
11. Spray a 9x13" baking dish with non-stick spray. Pour in the pasta mixture and spread out.
12. Cover with foil and bake 40 minutes.
13. Serve topped with Parmesan cheese shavings.