Mmmmmm. Comfort food! This pot roast is so tender and juicy, and the green onion mashed potatoes are so insanely good!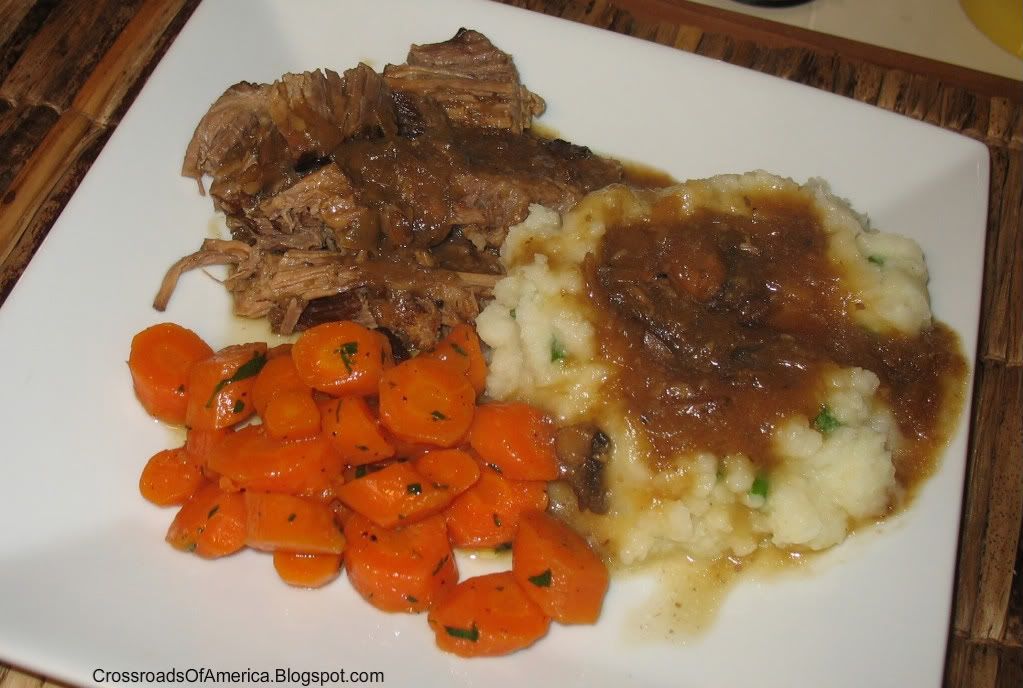 The pot roast is my adaptation of a recipe from
Claire Robinson
. The mashed potatoes came from the
Life's Ambrosia blog
.
For the Pot Roast:
Makes: 6-8 servings
Prep time: 5 minutes
Cook time: 3-5 hours
Printable Recipe
Ingredients:
4-5 lb beef bottom round roast
2 T olive oil
1 1/2 lbs cremini or baby bella mushrooms, sliced
2 large yellow onions, halved and sliced
6 cups beef broth
1. Preheat oven to 325 F.
2. Add oil to a large Dutch oven over medium-high heat. Salt and pepper the roast and brown on all sides. Remove.
3. Add the mushrooms and salt and pepper and cook until starting to soften, about 5 minutes.
4. Add the onion and broth and stir. Return the beef to the pot. Bring to a simmer.
5. Cover and place in oven and roast for 3-4 hours (or even more) until the beef is very tender and is starting to fall apart. Remove lid and let roast another 30 minutes to let the sauce thicken.
6. Remove beef to a plate to rest. Take 2 cups of the remaining sauce and place in a blender. Let cool slightly, then puree until smooth. Pour back into Dutch oven and mix.
7. Cut beef into thin slices or bite-sized pieces. Serve with gravy mixture.
For the Green Onion Mashed Potatoes:
Makes: 6 servings
Prep time: 10 minutes
Cook time: 20 minutes
Ingredients:
8 medium russet potatoes, peeled and cubed
2 T butter
1/2 cup milk
1/2 cup buttermilk
6 green onions, sliced
1. Place potatoes in large pot of water and boil until tender, about 20 minutes. Remove and drain.
2. Place potatoes in large bowl, add butter, and mash with a hand masher or use a hand mixer. Mix in the milk. Next, mix in the buttermilk and green onions. Add salt and pepper to taste and serve.