These are so good we made them twice in one week.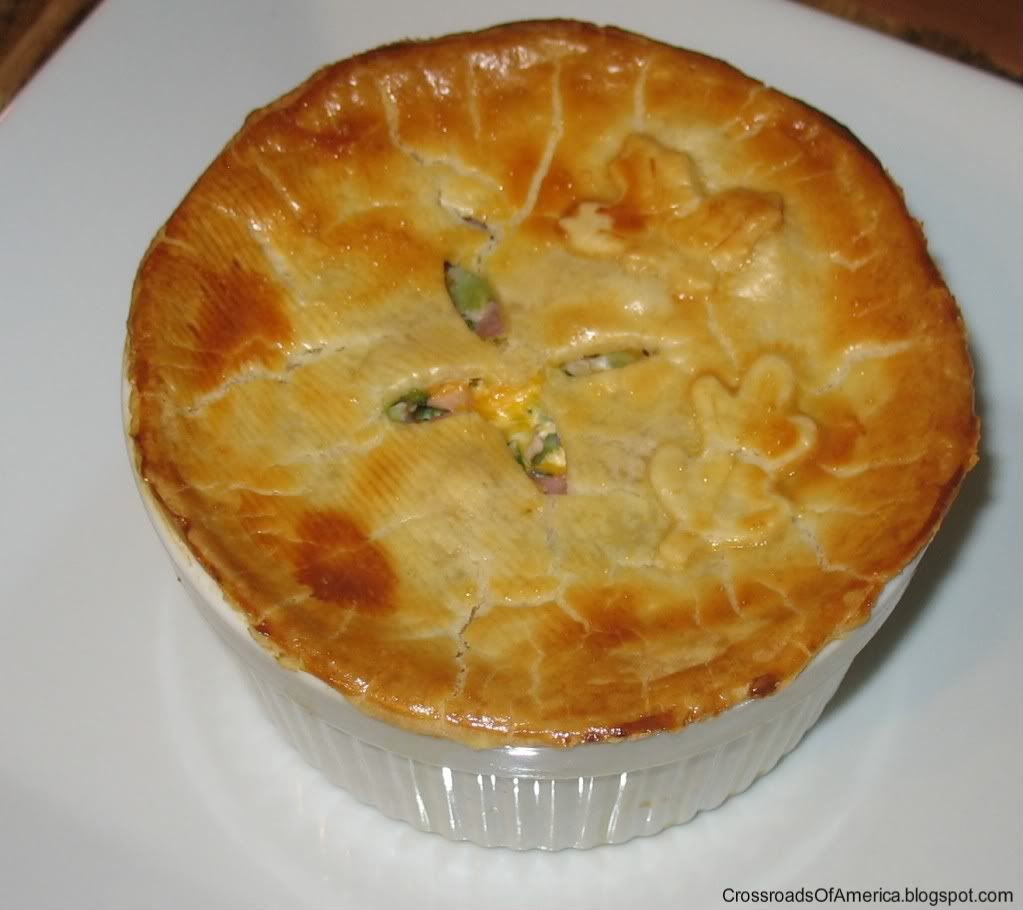 I got the
original recipe
from a weekly email from Kraft.
Makes: 2 servings*
Prep time: 15 minutes
Cook time: 40 minutes
Printable Recipe
Ingredients:
1 8oz slice of ham, chopped
1 cup cheddar cheese, shredded
1 cup frozen broccoli cuts, thawed, drained
1 cup frozen cauliflower florets, thawed, drained
2 green onions, chopped
1 8oz tub chive and onion cream cheese
1/2 of a 14.1 oz refrigerated pie crust
1 egg
1 T water
2 10oz ramekins
* This recipe makes 2 10z servings. You can also use 6 oz ramekins to produce 4 smaller servings.
1. Preheat oven to 400 F.
2. Combine the ham, cheddar, broccoli, cheddar, and green onions in a large bowl.
3. Microwave the cream cheese until melted. Add to ham mixture and mix.
4. Spray 2 10oz (or 4 6oz) ramekins with non-stick spray. Spoon in ham mixture.
5. Unroll the pie crust onto a lightly floured surface. Roll out to a 12" circle. Cut into 2 6 1/2" circles (or 4 5" circles if using 6oz ramekins). Using cookie cutters, cut leaves from remaining dough.
6. Beat egg and water. Brush onto top edges of the ramekins. Top with dough circles and press down along edges.
7. Brush tops with egg wash. Add leaf dough pieces and brush with egg wash. Cut small slits in top.
8. Place ramekins on a baking sheet. Bake 30-40 minutes or until golden brown8