I came across this recipe on an old episode of
License To Grill
, a grilling show that was once aired on Food Network Canada. The host, Robert Rainford, was quite entertaining and made some awesome grilled food. I wish the show was still on!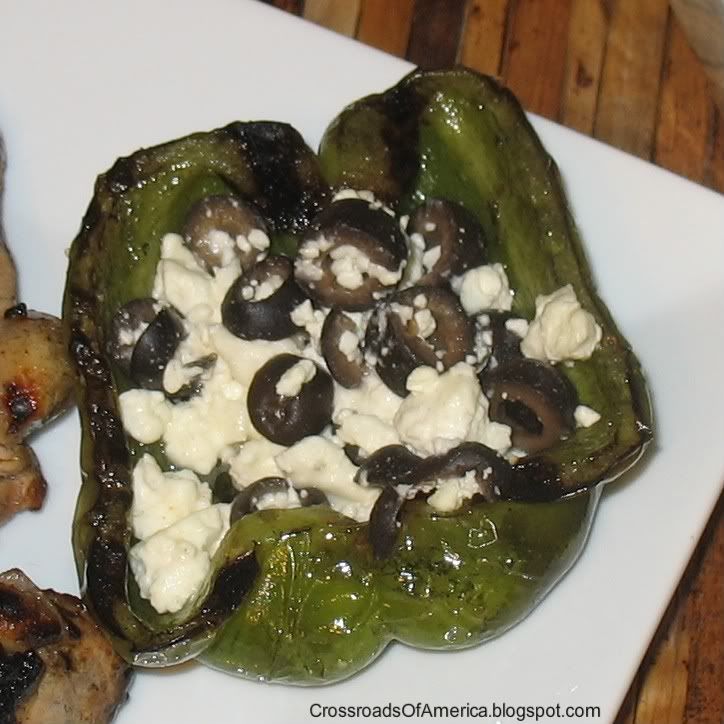 I made a few minor changes to the original recipe.
Makes: 4 servings
Prep time: 5 minutes
Cook time: 10 minutes
Printable Recipe
Ingredients:
4 green bell peppers, split lengthwise, seeds and membranes removed
5 T olive oil
2 t dried oregano
6 oz feta cheese, crumbled
1 cup black olives, sliced
1. Preheat grill to medium.
2. Brush 1 tablespoon of oil on the peppers. Place on a tray with insides facing up.
3. In a small bowl, combine the oregano and the remaining olive oil. Drizzle about half of the mixture over the peppers.
4. Grill peppers, hollow side facing down, for 5 minutes.
5. Flip peppers and divide the cheese and olives between them. Drizzle with the remaining oregano mixture and grill another 5 minutes or until slightly charred.