These burgers are outstandingly good. The mushroom topping, along with the French fried onions and the smoked cheddar are a great combination.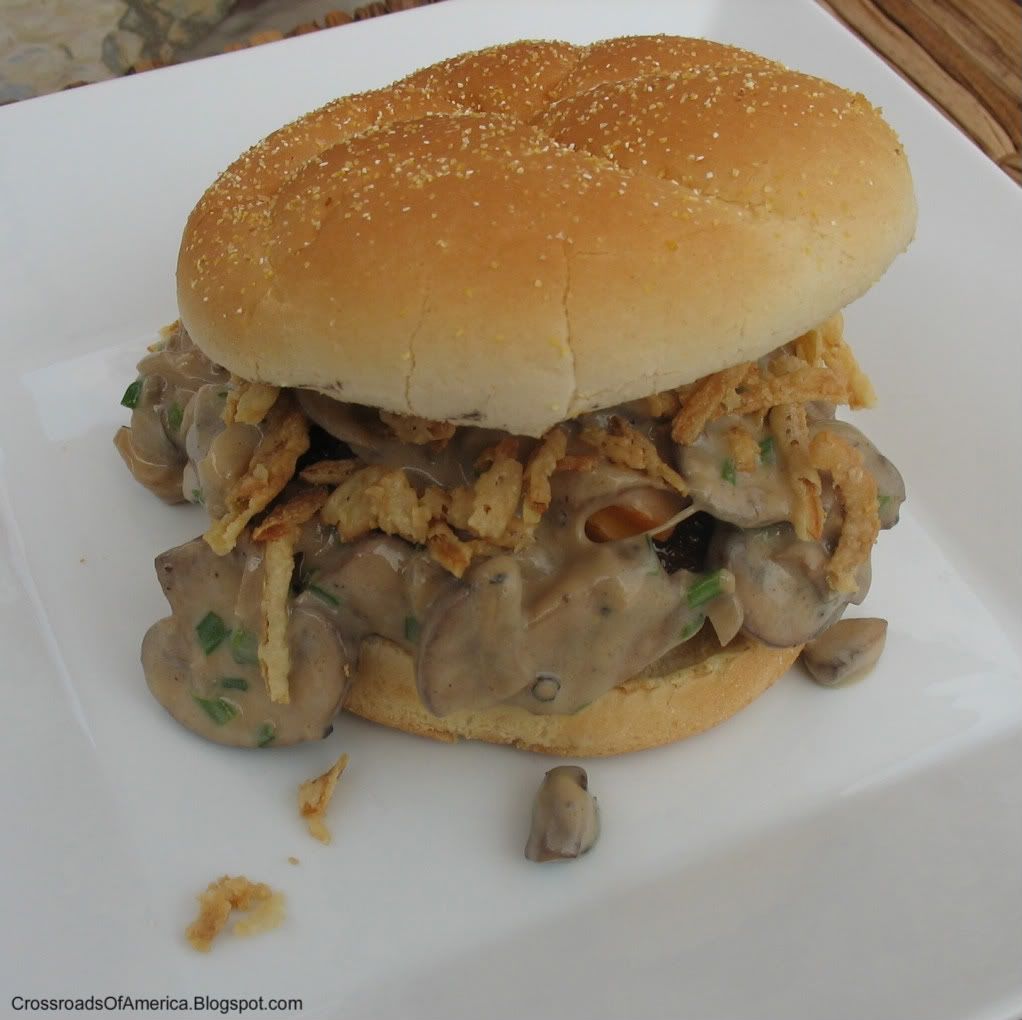 The original recipe is
here
.
Makes: 2 burgers*
Prep time: 10 minutes
Cook time: 20 minutes
Printable Recipe
Ingredients:
1/4 cup olive oil
2 shallots, sliced
1 T garlic, minced
8 oz mushrooms, sliced
1/2 t balsamic vinegar
1/4 cup beef broth
1/2 cup mascarpone cheese
3 T chives, chopped
1 lb ground beef
4 t Montreal steak seasoning (make your own)
4 slices smoked Cheddar cheese
2 large hamburger buns
1 T Dijon mustard
1 T mayonnaise
1/2 cup French fried onions
* The original recipe has the mushroom topping divided among four burgers. We really wanted our topping piled high, so we used it on just two burgers and ended up with a little leftover.
1. Add 2 tablespoons of olive oil to a medium saute pan over high heat. Add the shallots, garlic and mushrooms until the mushrooms start to soften, about 3-4 minutes.
2. Add the remaining oil and the balsamic vinegar. Add broth, stir well, and bring to a simmer. Continue simmering, 5-7 minutes, until sauce begins to thicken.
3. Remove sauce from heat. Stir in the mascarpone, chives, and salt and pepper to taste. Cover to keep warm.
4. Preheat grill on high heat.
5. Season beef with steak seasoning and form into 2 patties. Grill until done as desired. Top with smoked cheddar and melt. Remove from grill. Toast buns and remove.
6. Mix Dijon and mayonnaise. Spread on buns. Top with burger. Add French fried onion pieces, followed by a large serving of the mushroom topping. Add bun top and serve.