These simple sandwiches don't require any fancy toppings. Just a thick slab of out-of-this-world meatloaf and some good Swiss cheese. Served on a mini-hoagie bun.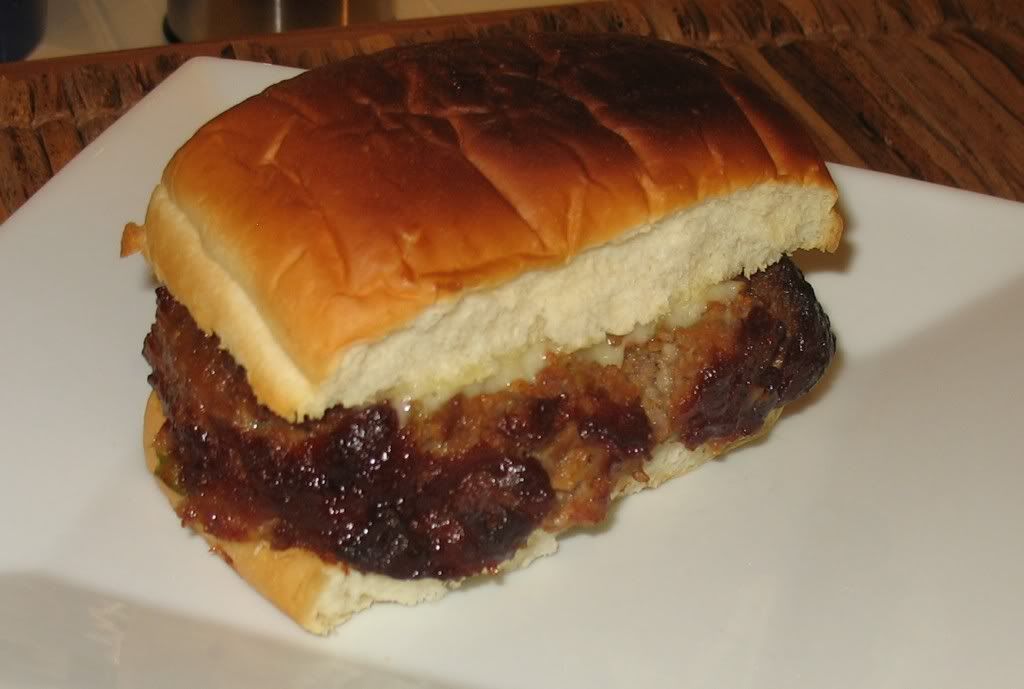 This is based on our
mini meatloaves recipe
.
Makes: 8 sandwiches
Prep time: 10 minutes
Cook time: 1 hour
Printable Recipe
Ingredients for the meatloaf:
1 lb ground beef
1 lb ground pork

1 medium white onion, chopped
2 ribs celery, chopped
1 green bell pepper, chopped
1 large egg
1/2 T milk
1 cup plain bread crumbs
2 T Montreal Steak Seasoning (see below or use McCormick's)
1 cup barbecue sauce (I used Russ & Franks Sassy)
1/2 cup salsa (I used Mrs. Renfro's Habanero)
1 T Worcestershire sauce
Ingredients for the sandwiches:
8 mini-sandwich rolls
8 slices good Swiss cheese
1. Preheat oven to 450 F.
2. Place onion, celery and green pepper into a blender. Pulse until chopped, but not quite pureed. Squeeze out any excess moisture.
3. Place beef into a large bowl. Add onion mixture.
4. Whisk egg with milk and add to beef, along with the bread crumbs and steak seasoning.
5. In a separate bowl, combine the barbecue sauce, salsa, and Worcestershire sauce. Pour half of the sauce onto the meat and combine all ingredients well. Reserve the remaining sauce.
6. Spray a 9x13 glass pan with non-stick spray. Add the beef/pork mixture and form into a roll. Spoon remaining sauce over top.
7. Bake 45-60 minutes or until center is done.
8. Let meatloaf rest for 10 minutes and then slice into thick pieces. Place over bun bottoms and top with cheese. Place under broiler for 2-3 minutes or until cheese is melted. Top with bun tops and serve.