Just a little something I threw together the other day. Topped with seasoned tortilla strips, pepperjack cheese, and salsa on grilled Texas toast.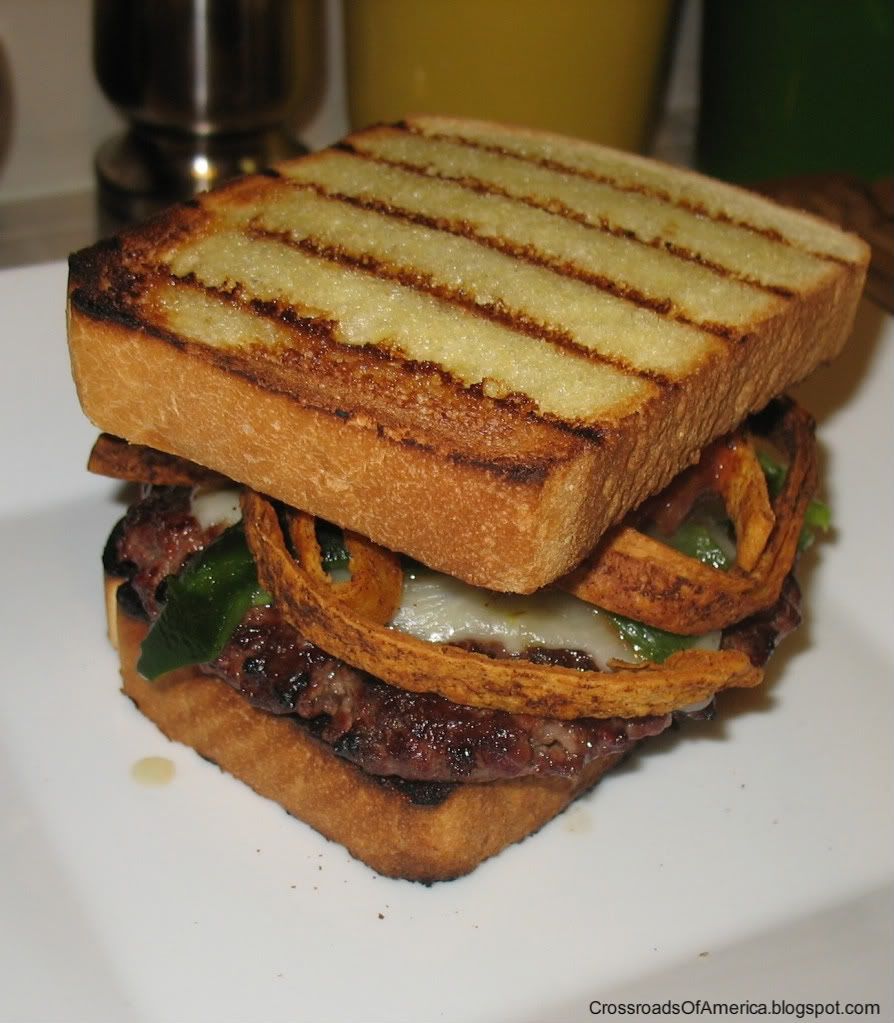 I love salsa on a burger in place of ketchup. It adds a nice kick. The tortilla strips are also great on salads.
Makes: 2 burgers
Prep time: 10 minutes
Cook time: 20 minutes
Printable Recipe
2 small poblano peppers
1/2 lb ground beef (use 75/25 for best results)
Montreal steak seasoning (use McCormick's or make your own)
4 slices Texas toast
Butter
1/4 cup salsa
2 slices pepperjack cheese
Tortilla strips (see below)
1. Preheat grill. Put peppers on grill and toast on all sides until well charred. Remove from heat and let cool slightly. Scrape off char, then cut open and remove seed and stems. Cut into 1" wide strips.
2. Form burger into patties and season. Grill until desired doneness is obtained. Top with cheese.
3. Slather butter on bread and toast on the grill until browned.
4. Assemble burgers, topping with the poblanos, some of the tortilla strips and a few tablespoons of salsa.
For the tortilla strips:
Prep time: 5 minutes
Cook time: 15 minutes
Ingredients:
1/4 cup vegetable oil
2 t chili powder
1/2 t ground cumin
1/2 t cayenne pepper
12 6" tortillas (corn or flour)
1. Preheat oven to 375 F.
2. Combine oil and spices in a bowl. Brush onto one side of the tortillas, stacking them as you go. Cut into 1/4"-1/2" strips. Place on baking sheets and bake 10-15 minutes or until golden brown and crunchy. Remove from oven and sprinkle with salt.