We made this dish for a family get-together and it disappeared fast.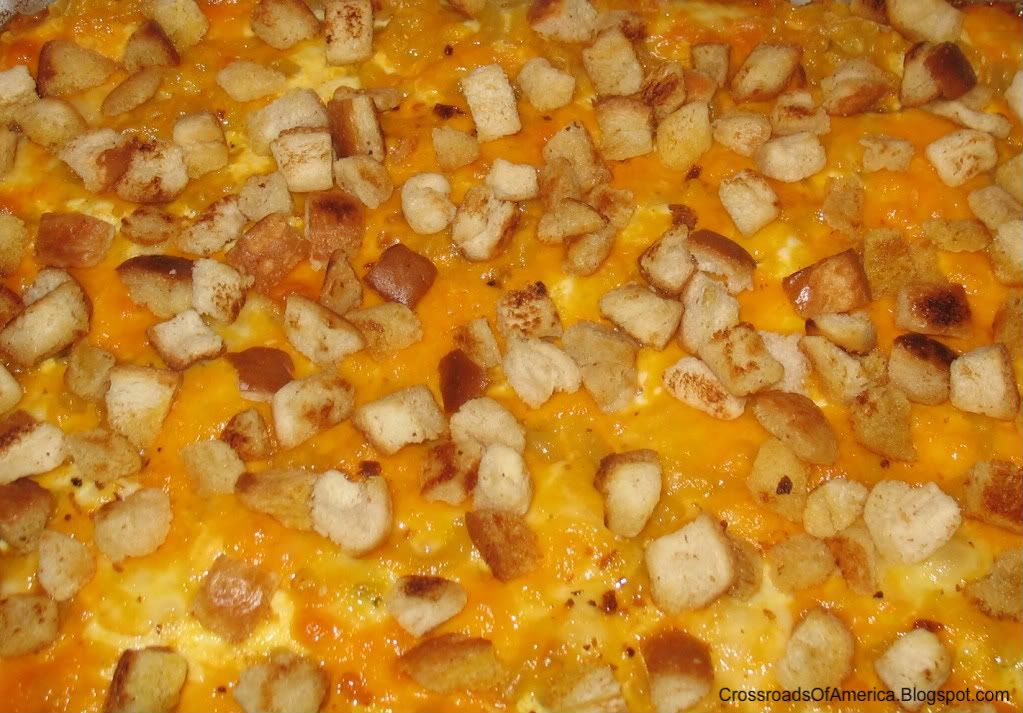 Not a lot of kick, but just a little heat. Even some of the kids ate it, which shocked us both. They're more of the Kraft mac-and-cheese crowd. This is definitely not like your boxed mac-and-cheese! I found the original recipe
here
.
Makes: 12 servings
Prep time: 15 minutes
Cook time: 45 minutes
Printable Recipe
Ingredients:
2 cups elbow pasta, cooked until almost done
8 oz Cheddar cheese, cut into cubes
8 oz Cheddar cheese, shredded
8 oz Monterrey Jack cheese, cut into cubes
2 t all-purpose flour
1/2 t salt
1/2 t black pepper
1/2 t cayenne pepper
1/2 t dry mustard
1/8 t dried nutmeg
4 T sour cream
1 large egg
1 cup heavy cream
1 cup half-and-half
4 slices white bread
1 T butter
1 .Preheat oven to 350 F.
2. Spray a 9x13 baking dish with non-stick spray. Add the pasta and cheese cubes and mix well.
3. In a large bowl, combine the flour, salt, black pepper, cayenne pepper, dry mustard, nutmeg, sour cream, heavy cream and half-and-half. Pour over the pasta. Top with shredded cheddar cheese.
4. Bake until top starts to brown, about 35 minutes.
5. While the pasta bakes, cut the bread slices into 1/2" sized cubes. Melt the butter in a large skillet over medium-high heat and add the bread. Cook until browned and crispy. Remove from heat.
6. Sprinkle bread crumbs over pasta and return to oven for 10 more minutes or until golden brown.