This is my take on a great recipe from Bobby Flay.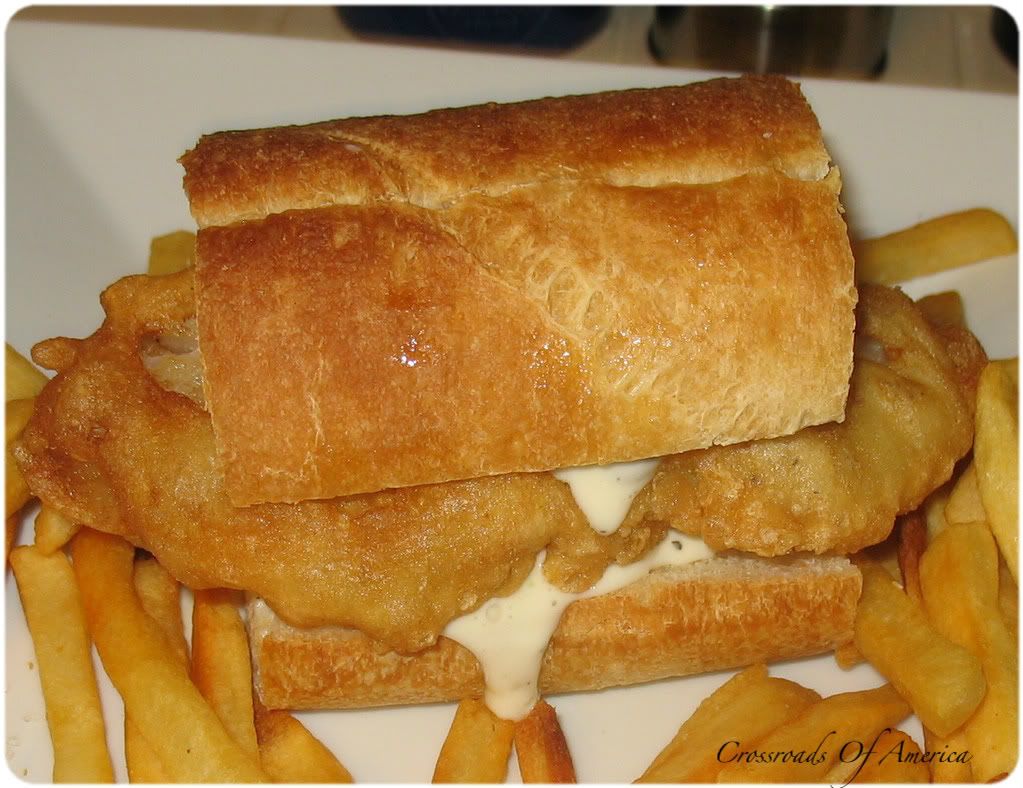 These came out really tasty. The only thing I would do different is to let the tartar sauce set longer so that it was a little thicker. Still, it was great! Served up with (gasp!) store-bought fries!
Makes: 2 sandwiches
Prep time: 10 minutes
Cook time: 10 minutes
Printable Recipe
Ingredients:
1 cup all-purpose flour, plus 1/2 cup
1/2 teaspoon salt, plus more
1/4 teaspoon pepper, plus more
1 cup beer
1 large egg white, beaten to stiff peaks
2 cod filets
Oil for frying
Lemon-Habanero Tartar Sauce (see below)
Loaf French bread, cut into 2 6" pieces, warmed
1. Whisk together 1 cup of the flour, the salt and pepper and beer in a small bowl. Let set 10 minutes then fold in the egg white.
2. Heat oil to 360 F in a deep fryer or Dutch oven.
3. Season fish with salt and pepper. Dredge in remaining flour and shake off any excess. Then dip into the beer batter. Fry on both sides until golden brown. Remove to a paper towel-lined plate to drain.
4. Assemble sandwiches by slathering the bread with the tartar sauce. Add the fish and enjoy!
For the Lemon-Habanero Tartar Sauce:
Prep time: 10 minutes
Cook time: 1 hour 20 minutes
Ingredients:
1 cup lemon juice
1/2 cup mayonnaise
1 anchovy fillets, chopped
1/2 small habanero, chopped
2 cornichons, finely diced
1/2 tablespoons capers
Salt and pepper
1. Bring lemon juice to a boil in a small sauce pan. Reduce by half. Pour into a blender.
2. Add the mayonnaise, anchovy and habanero and process until smooth. Remove to a bowl.
3. Fold in the remaining ingredients. Cover and refrigerate for at least one hour until set.