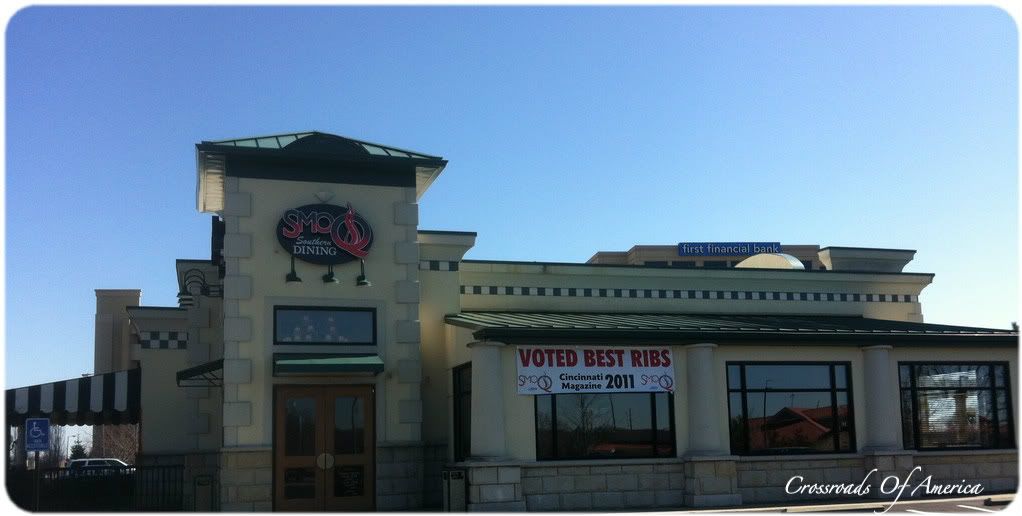 We were so happy that we stopped by
smoQ
the other day after a big shopping trip to
Jungle Jim's International Market
.
smoQ is a block or two off the Dixie Highway. It's a nicely appointed place.... there are great old black and white photos of BBQ joints on the wall. And the music is great... Muddy Waters, Louis... you name it. And the food? Absolutely great.
Anita ordered the pulled pork sandwich, which comes with house-made chips (delicious!), and a side of collard greens. The pork was smoked perfectly, was tender, and came topped with a mustard slaw that didn't overpower the meat. The collards were really good. It's a big meal for sure!
I had the half rack of St. Louis ribs, which comes with two sides, so I had bacon/cheese grits and southern-style green beans.
First, the ribs were beyond good. They come 'dry', meaning they aren't sauced, which is what I prefer. I get suspicious when a place drowns their food in sauce before they serve it (Anita's pork was also served without sauce). These ribs had a fantastic rub crust and smoke ring. The rub was to die for. It had a touch of sweetness, which I think was
turbinado sugar
. My goal in life now is to try and duplicate it this year when I fire up my smoker and throw on some ribs.
The sides were fantastic. I only wish I could've eaten more. I mean, really? Bacon/cheese grits? You know those were great! The southern style green beans were also good.
I like that smoQ also puts their sauces on the table. They had three flavors available: Memphis, KC, and Carolina. We sampled them while we were waiting for our food (in fact, I found that the Memphis sauce makes a really good dip for the free corn muffins you get!). They were all very good. I ended up only putting about 3 drops of Memphis sauce on one of my ribs. The ribs didn't need sauce at all, they were so moist and tasty, with just the right amount of smoke.
Service was prompt too. All in all, it was a great lunch and we'll definitely return to smoQ again!