I've been on a po'boy kick lately. Mostly because of
Fat Johnny
's Kaw-Cajun comeback sauce. I recently made a
spicy 4-meat po'boy
(and others) with the same sauce and absolutely loved (and devoured!) it. This time, I made an excellent roast beef po'boy. I've re-posted the recipe for the comeback sauce, courtesy of John.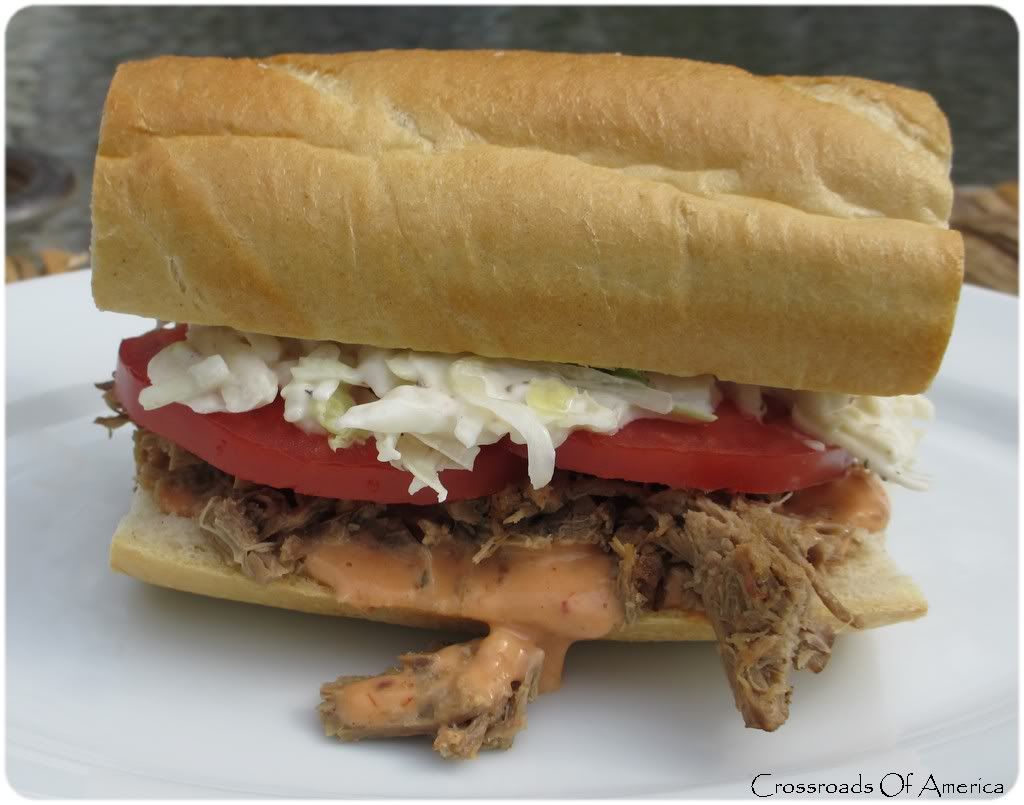 I serve my po'boys mostly with slaw, but you can substitute shredded lettuce instead.
For the Po'Boy:
Makes: 4 servings
Prep time: 5 minutes
Cook time: 15 minutes
Printable Recipe
Ingredients:
1 loaf French bread, split
1/4 cup (or more) Kaw-Cajun comeback sauce (see below)
2 cups roast beef (see below) with gravy

Slaw (see below)
Tomato, sliced
Dill pickles, to taste

1. Heat the bread in an oven, under the broiler, or on a grill, until slightly toasted.
2. Slather the bottom half of the bread with the comeback sauce.
3. Spread the roast beef evenly along the bread and top with slaw and sliced tomato and pickles. Enjoy!
For the Kaw-Cajun comeback sauce:
Makes: A big ole batch, but its never enough!
Prep time: 5 minutes
Cook time: 1 hour
Ingredients:
1. Blend all ingredients. Refrigerate for at least one hour before using.
For the roast beef (originally from the
Food Network
):
Makes: 8-10 servings
Prep time: 10 minutes
Cook time: 3 1/2 - 5 hours
Ingredients:
2 1/2 pounds beef eye of round roast
5 cloves garlic, peeled
1 tablespoon vegetable oil
2 bay leaves
1/2 bell pepper, cut into strips
2 tablespoons all-purpose flour
1. Cut 5 slits in the beef and insert the garlic cloves.
2. Salt and pepper the beef.
3. Heat oil in a Dutch oven or large pot over high heat. Add beef and brown on all sides.
4. Add enough water to cover the beef about halfway. Add in the bay leaves and pepper. Bring to a boil and reduce to a simmer. Cover, and let simmer for at least 3 hours or until the meat starts to fall apart. Add water during the cooking process if needed.
5. Remove meat to a plate to rest. Remove the pepper and bay leaves and slowly whisk in the flour to make a gravy. You may need to add more flour, but do so slowly. Season with salt and pepper.
6. Shred the beef. You can use it as is, drizzled with gravy, or I just add the meat to the gravy and serve it all together.
For the slaw:
Makes: About 6 cups
Prep time: 5 minutes
Cook time: 30 minutes
Ingredients:
6 cups of shredded cabbage (I used a small bag of Dole cabbage mix)
1 cup shredded carrot (omit if using a bagged mix)
1 cup mayonnaise
1/4 cup white vinegar
1 teaspoon celery seed
Salt and pepper, to taste
1. Place the cabbage and carrot in a large bowl.
2. In a separate bowl, whisk together the remaining ingredients. Fold into the cabbage and carrot. Cover and refrigerate at least 1 hour before serving.