Anita enjoyed a fantastic catfish po'boy the other day at our favorite Cajun joint in Indianapolis,
Papa Roux
. Of course, that meant I should make one at home too.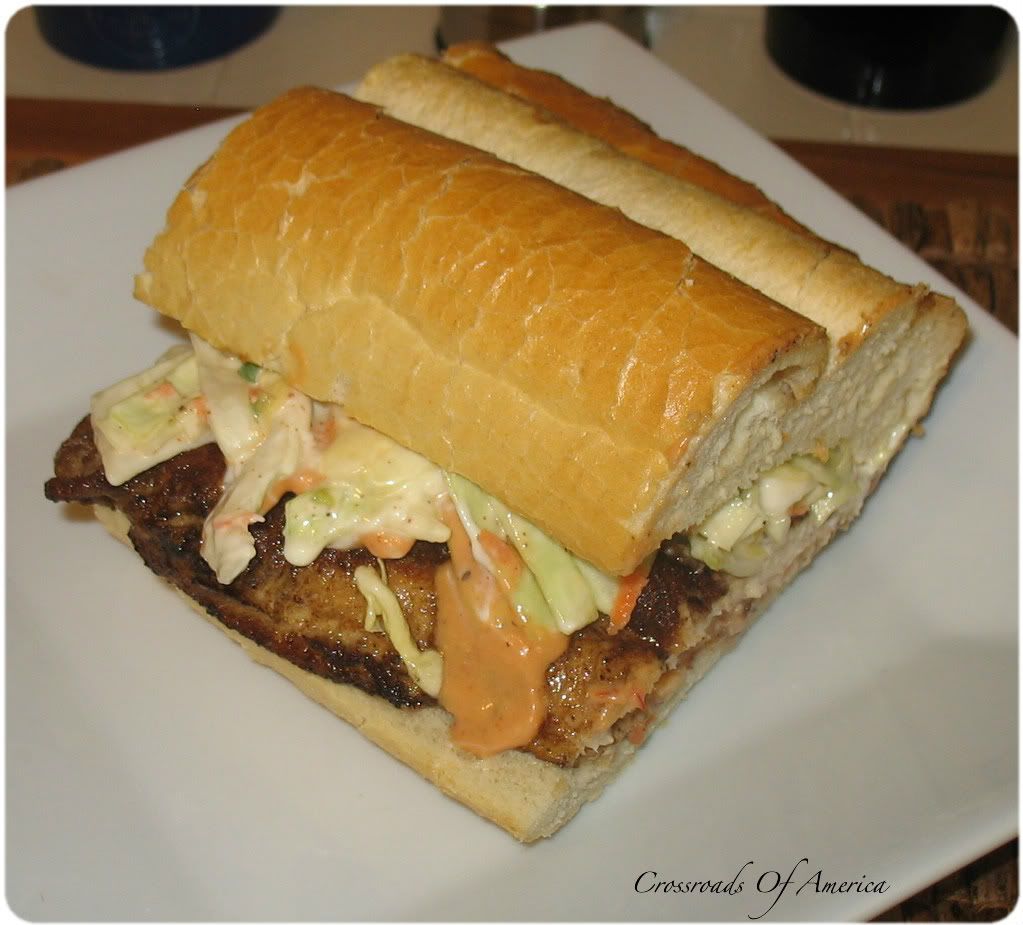 My version was a little different in that I made a blackened catfish filet instead of a breaded one. I did use Papa Roux's slaw recipe, and for the remoulade I used
Chez John's Kaw-Cajun Comeback sauce
. The end result was fantastic.
For the sandwich:
Makes: 2 large sandwiches
Prep time: 5 minutes
Cook time: 10 minutes
Printable Recipe
Ingredients:
2 catfish fillets
4 tablespoons butter, divided
Creole seasoning
2 cups Papa Roux creamy slaw (see below)
2-4 tablespoons Chez John's Kaw-Cajun Comeback sauce (see below)
1 loaf French bread
1. Melt butter in a shallow bowl or plate. Dredge catfish in butter then season with Creole seasoning.
2. Melt remaining butter in a cast iron skillet. Add catfish fillets. Cook over high heat about 2 minutes per side or until golden brown and flaky.
3. Split French bread lengthwise. Slather bottom half with comeback sauce. Add both catfish filets and top with slaw. Slather top bread half with remaining sauce. Cut in half and serve.
For the creamy cole slaw (courtesy Papa Roux):
Makes: A big ole batch, so eat it as a side too
Prep time: 10 minutes
Cook time: 8 hours
Ingredients:
15 oz jar of Hellman's mayonnaise
1 medium carrot, peeled and grated
1 cup white sugar
1/2 cup distilled white vinegar
1/4 teaspoon fresh ground black pepper
1 teaspoon salt
1 medium green cabbage, shredded (about 2 quarts)
2 jalapeños, seeded and diced
1. Mix salt, sugar, and vinegar.
2. Add mayonnaise and mix well.
3. Add carrot and black pepper and mix well.
4. Add cabbage and jalapeño and toss to coat well. Refrigerate overnight.
For the Kaw-Cajun Comeback Sauce (courtesy Chez John):
Makes: A big batch, but you can use this sauce on every sandwich you'll ever make!
Cook time: 8 hours
Ingredients:
1. Blend all ingredients. Refrigerate for at least one hour before using, but its better if you let it set overnight.