Oooey gooey pizza fondue-y!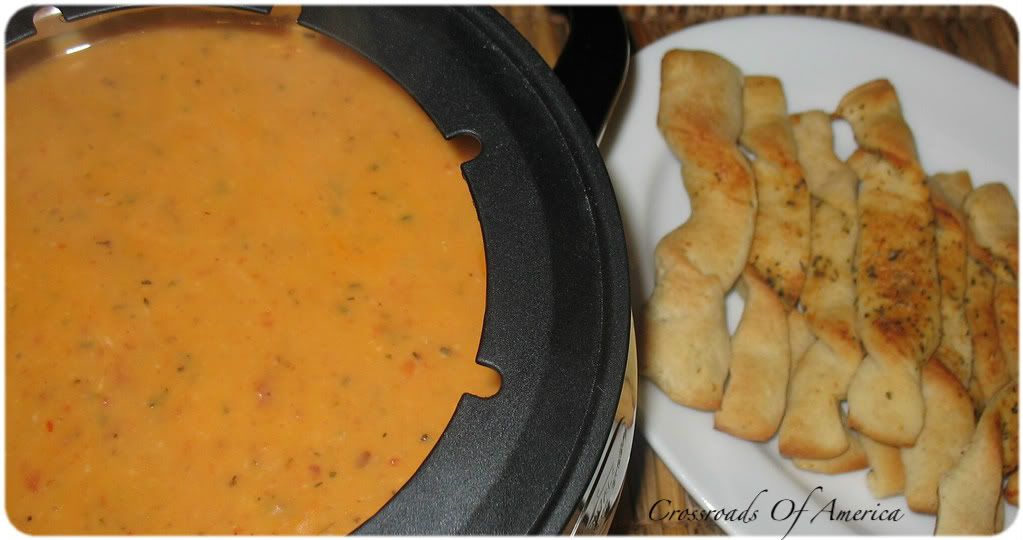 We needed something to snack on while we watched the big game. This hit the spot!
The original recipe came from
Taste of Home
.
Makes: 4 cups
Prep time: 5 minutes
Cook time: 15 minutes
Printable Recipe
Ingredients:
2 10 3/4 oz cans condensed cheddar cheese soup
1 8 oz can pizza sauce
1/2 cup milk
1/2 teaspoon dried basil
1/2 teaspoon dried oregano
1/4 teaspoon crushed red pepper flakes
1-1/2 cups shredded cheese (mozzarella, Italian, whatever you have on hand)
1/2 cup pepperoni, chopped
Hot sauce, to taste
Pickled jalapeño slices, to taste
Breadsticks (see below)
1. Place all ingredients into your fondue pot and heat on medium until melted.
2. Serve with breadsticks.
For the breadsticks, from the
Food Fashionista
:
Makes: 18-24 breadsticks
Prep time: 5 minutes
Cook time: 10 minutes
Ingredients:
1 package Pillsbury refrigerated pizza dough (I used thin crust)
2 tablespoons olive oil
1 tablespoon Italian seasoning
1 tablespoon garlic powder
1/4 cup freshly shredded Parmesan cheese
1. Preheat oven to 400 F.
2. Lightly flour your working surface. Roll out the dough into a large rectangle.
3. Brush dough with 3/4ths of oil and sprinkle with seasonings and cheese.
4. Cut into strips using a pizza cutter.
5. Transfer strips to a baking sheet (I needed two) lined with parchment paper. As you transfer the strips, twist them into a corkscrew shape. Brush twisted un-oiled side with remaining oil.
6. Bake for 15-20 minutes or until golden brown.