I was all over this paella. Sure, I didn't have Spanish chorizo on hand, so I substituted smoked sausage. And I don't have one of those big huge paella pans so I used a big skillet. Everything came out fantastic. This is a great dish for when you have company over as it makes a good sized batch.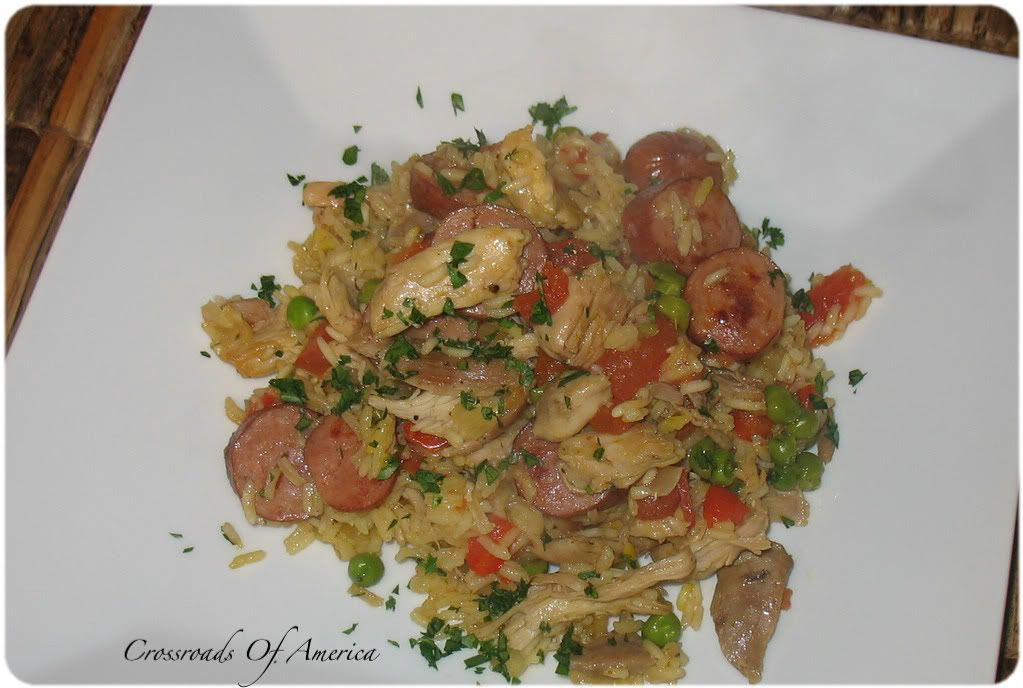 The original recipe is on
Epicurious
. Instead of using roast chicken from the store, I roasted up 2 pounds of chicken thighs then skinned and boned them for the paella.
Makes: 6 servings
Prep time: 20 minutes
Cook time: 1 hour
Printable Recipe
Ingredients:
2 tablespoons vegetable oil, divided
2 pounds chicken thighs
1 pound Spanish chorizo, cut into 1/2" slices on the diagonal (can substitute smoked sausage)
1 small white onion, chopped
1 red bell pepper, chopped
2 cloves garlic, chopped
1/4 teaspoon paprika
2 cups brown rice
1 pinch saffron threads
2 bay leaves
4-6 cups chicken stock
1/2 cup frozen peas
1 tomato, chopped
1/4 cup fresh parsley, chopped, for garnish
1. Preheat oven to 400 F.
2. Season the chicken thighs. Heat 1 tablespoon of the oil in a large cast iron skillet or Dutch oven.
3. Add the thighs and brown on both sides. Transfer skillet to oven and continue cooking until done. Let cool slightly. Remove meat from bones and chop lightly.
4. Heat remaining oil in a paella pan or very large skillet. Add chorizo and cook for about 1 minutes (if using smoked sausage, cook until browned).
5. Add the onion, red pepper and garlic and cook until the vegetables are softened.
6. Add rice, paprika, saffron and bay leaves. Stir to combine and cook 3-5 minutes or until rice is slightly toasted.
7. Add 2 cups of the stock and bring to a boil. Add the chicken, peas and tomato and stir.
8. Transfer pan to oven and cook, uncovered, until most of the liquid is gone, about 20 minutes.
9. If rice is not done, add in another cup of broth and return to oven for 5-7 minutes. Repeat adding broth and cooking until rice is done.
10. Remove from oven and fluff the rice with a fork. Serve garnished with parsley.