It turns out that I eat a lot of antipasto salad. This is the third different variation I've posted, and I have to say that it is probably my favorite. But, I'll eat any antipasto salad, any time, anywhere. They're great for picnics or cookouts, for starters. And they have salami in them, which is probably the real reason I love them.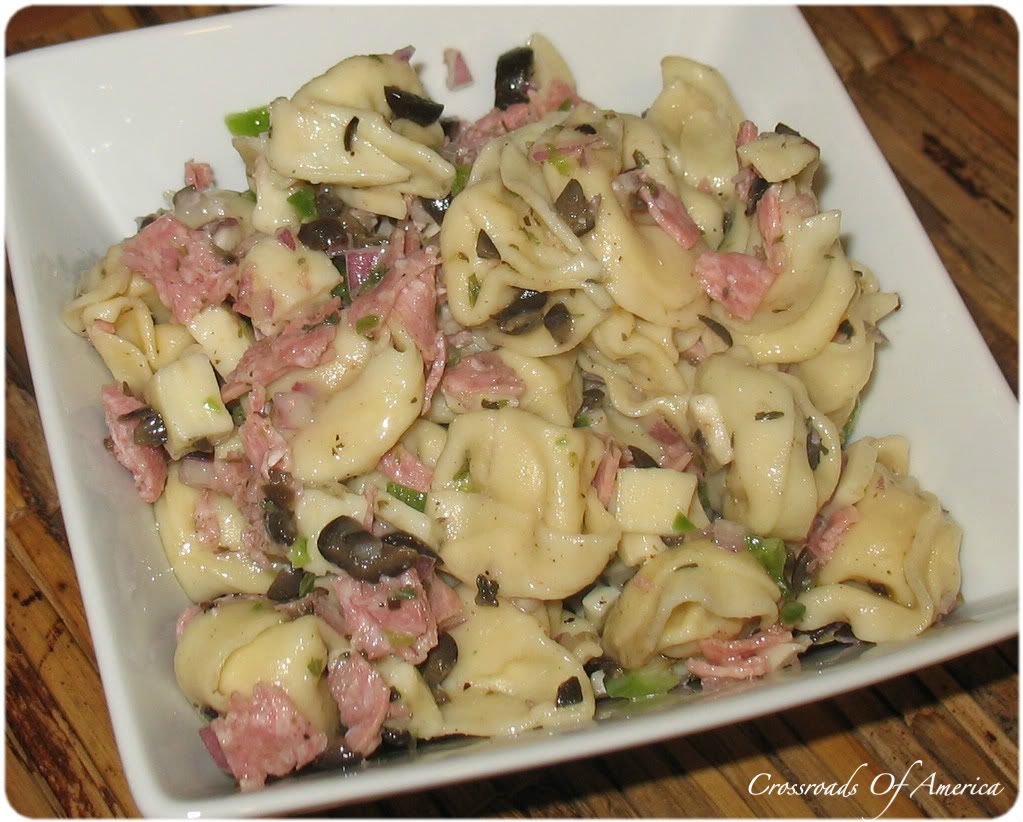 The original recipe came from
Bo's Bowl
.
Makes: 8-10 servings
Prep time: 10 minutes
Cook time: 20 minutes, plus 2 hours in the fridge
Printable Recipe
Ingredients:
2 9 ounce packages refrigerated three cheese tortellini
10 ounces Genoa salami, diced
8 ounce sliced provolone, diced
1 small can chopped black olives
1/2 red onion, diced
1/2 green bell pepper, diced
1 package Good Seasons Italian dressing mix (or use homemade, see below)
1/4 cup red wine vinegar
1 tablespoon extra virgin olive oil, plus 1/2 cup, plus more
3 tablespoons water
1. Cook pasta per package instructions. Drain well.
2. Place pasta into a large bowl. Drizzle with 1 tablespoon of olive oil and toss gently to cover. Let cool 10-15 minutes.
3. In a separate bowl, whisk together the remaining 1/4 cup of olive oil, Good Seasons, and water.
4. Add the salami, cheese, olives, onion and bell pepper to the pasta. Add the dressing and mix all ingredients. Season to taste with freshly ground black pepper. Cover and refrigerate at least 2 hours before serving.
For the Good Season's Italian Dressing mix:
Ingredients:
1 tablespoon garlic salt
1 tablespoon onion powder
1 tablespoon sugar
2 tablespoons oregano
1 teaspoon pepper
1/4 teaspoon thyme
1 teaspoon basil
1 tablespoon parsley
1/4 teaspoon celery salt
2 tablespoons salt
1. Combine all ingredients. 2 tablespoons of the mix equals 1 packet.