I was pleasantly surprised at how good these came out. At first I thought... really? Tempura chicken fingers? Ok, that sounds crazy enough to try. Well, I'm glad I did!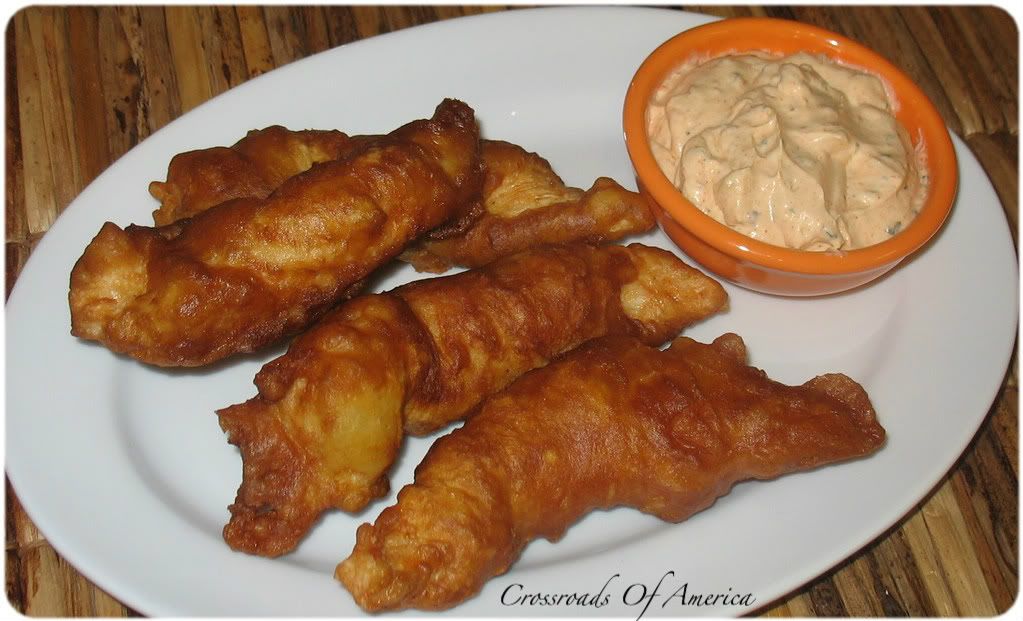 The dip is awesome too. It's great just as a dip for chips or veggies.
The original recipe for the tempura chicken came from the
Plain Chicken blog
. The dip recipe came from the
Hardy Boys on the Food Network
. The Food Network should bring them back, in my opinion.
For the Tempura Chicken Tenders:
Makes: 4 servings
Prep: 5 minutes
Cook time: 15 minutes
Printable Recipe
Ingredients:
2 cups all-purpose flour
1 1/2 teaspoons salt
2 cups water
3 tablespoons white vinegar
1 1/2 teaspoons baking soda
2 pounds chicken tenders
Hot sauce, to taste, optional
Vegetable oil, for frying
Smokey Ranch dip (see below) or whatever dipping sauce you prefer
1. Mix together the flour, salt, water and hot sauce (if using) in a large bowl.
2. In a small bowl, mix together the vinegar and baking soda. Pour into the large bowl and fold.
3. Add oil to a Dutch oven or deep fryer until it is about 2" - 3" deep. Heat to 350 F.
4. Submerge the chicken tenders in the batter and roll until covered. Shake off excess and slowly lower into the oil. Fry until golden brown, about 5 minutes. Remove to a paper towel-lined plate.
5. Serve with the smokey ranch dip.
For the Smokey Ranch Dip:
Ingredients:
1 cup sour cream
1 cup mayonnaise
1/4 cup heavy cream
1 teaspoon dried oregano
1 teaspoon dried basil
1 teaspoon garlic powder
1 teaspoon onion powder
2 1/2 teaspoons salt
1 teaspoon black pepper
2 teaspoons smoky paprika
2 teaspoons honey
1. Combine all ingredients. Refrigerate until needed.